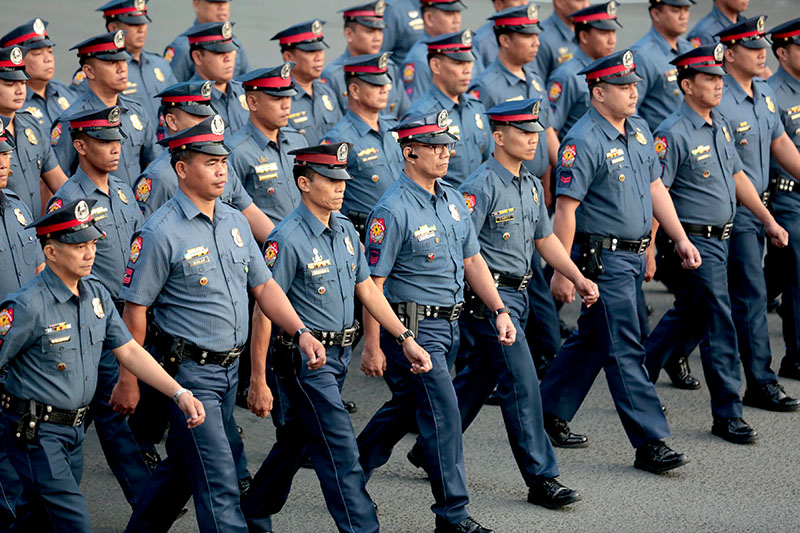 Karapatan fears the police force may abuse the subpoena powers that select officials have been given. Michael Varcas, file
Karapatan: Police subpoenas, National ID system 'legitimize repression'
MANILA, Philippines — Rights group Karapatan on Monday said that a new law giving the police subpoena powers and the proposed national identification system are the latest "repressive measures" of President Rodrigo Duterte's administration.
"The Duterte regime is adding more and more in its arsenal of repressive legislation... With the National ID system and the law giving Philippine National Police and the Criminal Investigation and Detection Group subpoena powers, the Duterte regime is practically enacting a witch-hunt tool," Karapatan secretary-general Cristina Palabay said.
Palabay added that these measures will "effectively legislate and legitimize repression."
Duterte on March 1 signed Republic Act 10973, which grants the PNP chief and the director and deputy director for administration of the CIDG subpoena powers.
Human rights activists and lawyers expressed concerns about the law, saying it would lead to more abuses by the police force.
"This law is a Pandora's box that will trump and disregard people's civil and political rights. The PNP and the CIDG have long ignored its mandate of serving the Filipino people," Palabay said.
She stressed that police have long been involved in alleged illegal arrests, searche and seizures and in planting evidence and corrupt practices.
"We have seen rights violations knowingly committed by the police, emboldened by the protection granted to them by this government. Now, we have another law that will give them more power to abuse," Palabay said.
Government officials, however, assured the public that the rule of law would still prevail despite the new powers given to police.
Presidential spokesperson Harry Roque said that judicial processes would still be followed. Before the enactment of RA 10973,
PNP Director General Ronald dela Rosa in a press briefing Monday vowed that he would never abuse the power granted to him.
He added that any attempt to abuse or misuse subpoena powers will be dealt with accordingly.
The police has resisted attempts by the Commission on Human Rights to gain access to records on alleged extrajudicial killings. The Office of the Solicitor General has also asked the Supreme Court to withdraw an order for the police to submit similar records as well as data on the government's war on drugs.
'Wolf in sheep's clothing'
The Karapatan secretary general also criticized the national identification system, calling it a "wolf in sheep's clothing."
"Disguised as an 'economic and social tool,' it becomes a mechanism for control and repression in the hands of the military. Aligned with the government's counterinsurgency campaign, this bill will be used to monitor and harass citizens," Palabay said.
National Security Adviser Hermogenes Esperon Jr., a retired general, said that the administration is planning to roll out this year the national identification system for Filipinos even without an enabling law.
A national ID card will contain personal information such as biometric data as well as the holder's photo and fingerprints.
The House of Representatives approved its version of the bill in September last year.