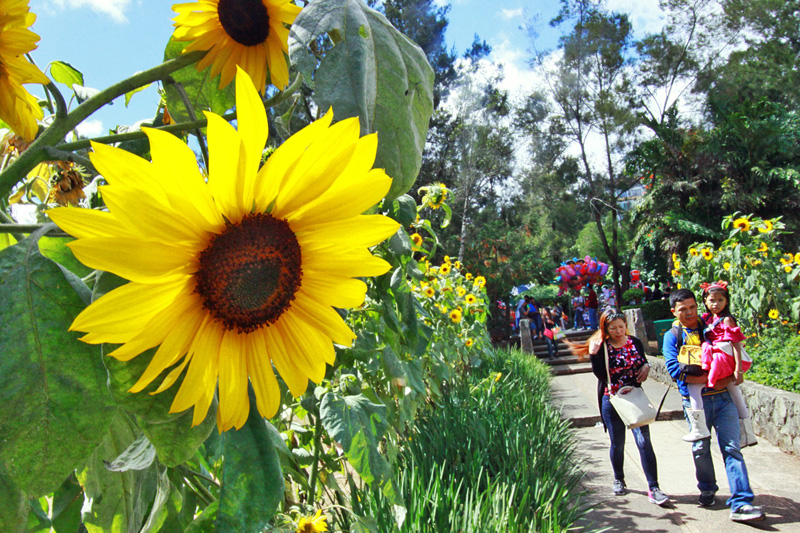 Sunflowers are in full bloom in Baguio City's Burnham Park yesterday, heralding the onset of summer. Andy Zapata Jr.
Vernal equinox to bring longer days
Helen Flores
(The Philippine Star) - March 8, 2018 - 12:00am
MANILA, Philippines — Filipinos will experience longer days after the so-called vernal equinox on March 21, the Philippine Atmospheric, Geophysical and Astronomical Services Administration (PAGASA) said yesterday.
PAGASA said the vernal equinox marks the beginning of spring in the northern hemisphere, which includes the Philippines, and autumn in the southern hemisphere.
During the equinox, night and day are about the same length on the same latitude in both hemispheres, the weather bureau said.
The term equinox is derived from the Latin word "aequus," which means equal, and "nox," which means night.
PAGASA said after the vernal equinox, the daylight hours would be longer.
Not yet summer
Despite the rising temperatures in the past weeks, the weather agency has yet to declare the start of the dry or summer season in the country as a weak northeast monsoon continues to affect parts of Luzon.
The northeast monsoon – cold and dry air from China and Siberia – is expected to bring cloudy skies with light rains over Cagayan Valley, Cordillera Administrative region and Ilocos region.
Metro Manila and the rest of the country will continue to experience hot weather with isolated rainshowers due to localized thunderstorms.
Heavy rains hit parts of Metro Manila yesterday afternoon due to warm ground temperatures that caused rain clouds to form.
The weather bureau said it may declare the start of the dry season this month.
PAGASA declares the start of the dry season once the easterlies become the dominant weather system in the country.
Last year, the summer season officially started on April 5.
PAGASA had warned of slightly warmer than normal temperatures in the country this summer due to the prevailing weak La Niña.
Ana Liza Solis, officer-in-charge of the PAGASA's climate monitoring and prediction section, said the easterlies are stronger during La Niña.
In Northern Luzon, the temperature is expected to hit 39.3 degrees Celsius in April. In Metro Manila, the forecast maximum temperature next month is 37.8 degrees Celsius.
March until May is the usual dry season in the western Philippines, which includes the Ilocos region, Central Luzon, Southern Tagalog, Metro Manila and Western Visayas.
The highest temperature in the Philippines was experienced on May 11, 1969 in Tuguegarao City at 42.2 degrees Celsius, according to PAGASA.