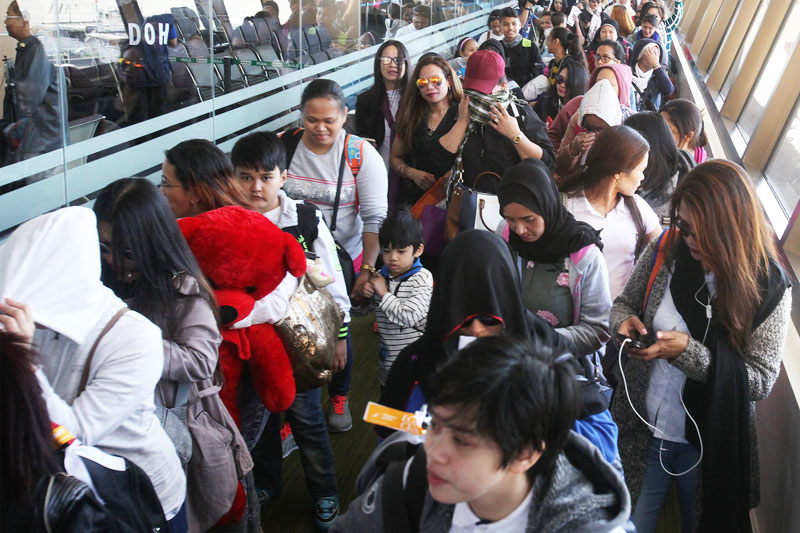 The Filipinos, composed of 160 overseas Filipino workers (OFWs) and 30 children, have availed themselves of the Kuwaiti government's amnesty program, which has been extended until April 22. Rudy Santos
Another 160 OFWs, 30 kids arrive from Kuwait
Helen Flores
(The Philippine Star) - February 24, 2018 - 12:00am
MANILA, Philippines — Some 190 Filipinos from Kuwait, mostly undocumented workers and some children, arrived yesterday at Ninoy Aquino International Airport Terminal 1 as part of the government's ongoing repatriation program.
The Filipinos, composed of 160 overseas Filipino workers (OFWs) and 30 children, have availed themselves of the Kuwaiti government's amnesty program, which has been extended until April 22.
The returning workers would receive P25,000 cash and livelihood assistance from the Overseas Workers Welfare Administration (OWWA).
At least 2,000 Filipinos have been repatriated by the Department of Foreign Affairs since Feb. 11.
The government of Kuwait on Tuesday announced the extension of its amnesty program to allow undocumented Filipinos to rectify their status or exit without being fined.
President Duterte has ordered a total deployment ban on workers to Kuwait after the reported deaths of Filipinos there, including Joanna Demafelis, the 29-year-old domestic helper whose body was found in a freezer earlier this month.
Kuwaiti policemen and the International Police have launched a manhunt for Demafelis' Lebanese employer and his Syrian wife.
The couple, now principal suspects in the murder, left Kuwait after Demafelis was killed.
Sen. Manny Pacquiao has pledged to redeem the land pawned by the family of Demafelis.
The two-hectare farmland was pawned by Demafelis' family for P200,000 to pay for her trip to Kuwait to work as a housemaid for a Lebanese employer identified as Shariff Faswat Abdoh Ghabriel.
Her body was found in the apartment in Al Shaab district on Feb. 9, several months after she was declared missing.
"Imagine, her family pawned their land just so that Joanna could work abroad and then she'll end up that way. I came from poverty so I feel the pain and suffering of her family," the senator said in Filipino after the hearing.
"I'll pay for the P200,000 to redeem the land. Hopefully this gesture will somehow lessen the pain and help the family rise from poverty," he said.
Foreign Affairs Secretary Alan Peter Cayetano earlier said he formally conveyed the Philippines' request for an extension of the amnesty program during a meeting with Kuwaiti Ambassador Mousaed Al-Thwaikh in Manila.
Cayetano said he asked for the extension to allow the Philippine embassy to accommodate and process more of the 10,800 undocumented Filipinos in Kuwait who may want to go home.
OWWA records showed that there are 251,000 documented OFWs in Kuwait, including 163,000 domestic helpers.
Returning domestic helper Michelle Raquini, 32, of Sta. Ana, Manila, said her lady employer is very good but the husband has intention to rape her so she decided to leave and volunteered for repatriation.
More than two million Filipinos are working in Kuwait and other Middle East countries, including Qatar, Bahrain, United Arab Emirates and Saudi Arabia.
The OFWs that arrived were each given P5,000 cash by the DFA and another P5,000 of OWWA certificates to be claimed through OWWA offices, since many of them will be leaving for their home provinces.
Those who have no relatives in Manila will be accomodated at the OWWA headquarters in Pasay City.
According to Jonathan Gesmundo of the Philippine Airlines corporate communications group, the airline has mounted six flights and has transported 1,240 OFWs from Kuwait since Feb. 11.
The first two flights were discounted fare paid for by the government, while the rest of the flights were free in response to call of the government.
Cebu Pacific also provided a special flight to repatriate some 369 OFWs using an Airbus A330 last Wednesday.
Meanwhile, OWWA said it will provide livelihood program to OFWs who want to avail themselves or are interested in the agency's program to put up their own small business.
OWWA also said that interested workers can avail themselves of the free training program of the Technical Education and Skills Development Authority.
The Department of Labor and Employment (DOLE) has set up a command center for OFWs to serve as central referral and action hub for their requests and other concerns.
In DOLE Administrative Order No. 73, Secretary Silvestre Bello III said the OFW Command Center shall be operational 24/7 and accommodate all walk-in, email, text and telephone request for assistance.
The center was also tasked to attend to requests of OFWs coursed through news reports and referrals.
Bello noted the center will also be accessible through social media and online messaging platforms and shall "promptly and accordingly respond to the OFWs' employment concerns, welfare cases, repatriation and other related concerns."
"The operation of the Command Center will help ensure that all the concerns of our OFWs are attended to, especially if the incident involving them needed immediate action and assistance," he added. – With Sheila Crisostomo, Paolo Romero, Rudy Santos