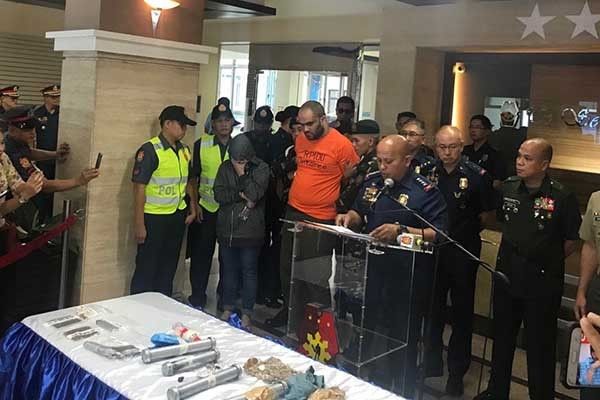 Philippine National Police chief Ronald "Bato" Dela Rosa presents to media suspected ISIS terrorist Fehmi Lassqued and his Filipina companion, Anabel Moncera Salipada.
Radyo Pilipinas/Leo Sarne
Suspected foreign ISIS member arrested in Manila
MANILA, Philippines — The joint forces of the Armed Forces of the Philippines and the Philippine National Police have arrested a suspected foreign terrorist allied with ISIS and his Filipina companion over the weekend.
On Monday morning, PNP chief Ronald "Bato" Dela Rosa presented to the media Tunisian Fehmi Lassqued and his Filipina companion identified as Anabel Moncera Salipada.
Dela Rosa said Lassqued is believed to be one of the top officials of international terror group ISIS.
The two were arrested in an apartment in Manila on Sunday, February 18. Seized from their possession were an ISIS-flag, assorted firearms and ammunition and components for an explosive device.
The authorities also recovered a Tunisian passport, believed to be fake, from Lassqued.
According to Dela Rosa, Lassqued entered the Philippines in July 2016 using a fake passport.
The police chief said that they are still determining Lassqued's links with foreign terrorists in Marawi City.
He added that they continue to coordinate with foreign governments on gathering intelligence regarding the presence of foreign terrorist suspects in the Philippines.
Last January 23, members of the AFP arrested Spanish terrorist Abdelkhakim Labidi Adib in Basilan.
The Department of Justice, on February 8, charged Labidi Adib, believed to be part of a foreign terrorist group currently in hiding in Basilan, with three counts of violating the law against illegal possession of firearms or explosives.