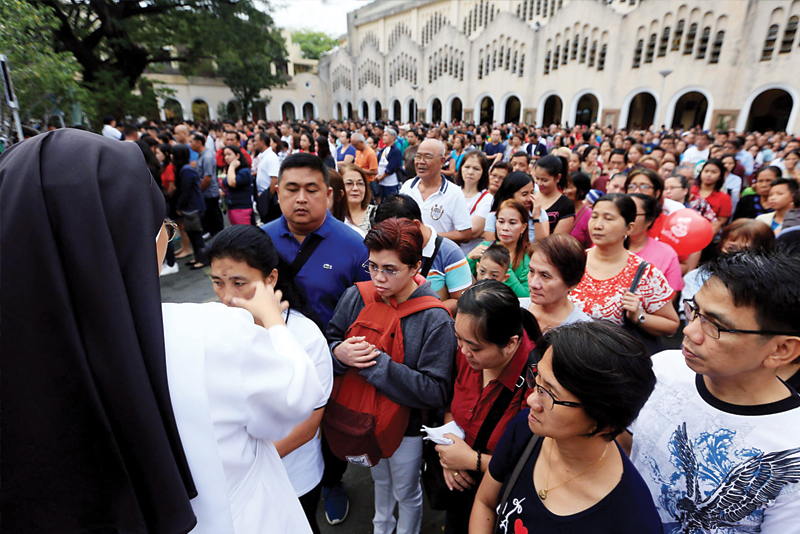 A nun daubs ash on the forehead of a devotee during the observance of Ash Wednesday, which marks the start of Lent, at the Redemptorist Church in Baclaran, Parañaque yesterday. Edd Gumban
Catholics urged to speak out against abuses, wrongdoing
MANILA, Philippines — An official of the Catholic Bishops' Conference of the Philippines (CBCP) reminded the faithful on Ash Wednesday yesterday to avoid the sin of omission by keeping silent on abuses in society, including extrajudicial killings.
In his homily, CBCP-Episcopal Commission on the Laity (ECL) chairman Manila Auxiliary Bishop Broderick Pabillo said Catholics are expected to be vigilant and to speak out against wrongdoings.
"Show concern (for) the country… It is a big sin if we do not do what is expected of us. This is what we call the sin of omission and one of the big sins of omission of Filipinos is negligence of the country, if we do not guard it well," Pabillo said.
"We have that social responsibility, that if we do not perform it, that will be a big sin," he added.
Pabillo said there are Filipinos who have kept mum about corruption, EJKs or even cursing among people because they are neither the direct targets nor the ones directly affected.
"This is why there are countries that laugh at us and (are) asking if we are truly a Christian nation, then why (are) there EJKs? If we are truly a Christian country, then why is there a violation of human rights? And why are we allowing our leaders to hurl invectives and no one is objecting, no one is saying anything?" Pabillo noted.
He also pointed out that under the proposed Charter change, there would be officials who would stay in power and that pork barrel funds would be part of the Constitution.