Duterte ready to sell soul to devil for OFWs
February 14, 2018 | 12:01am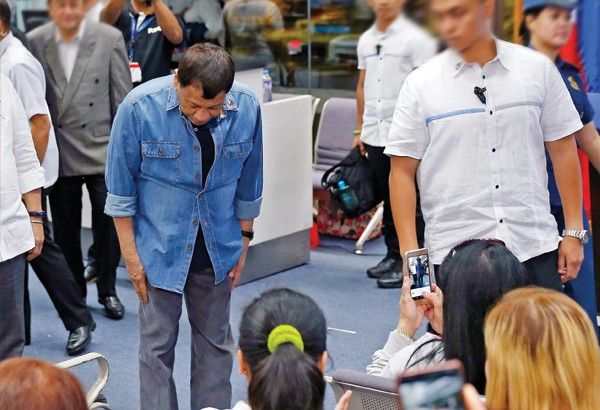 MANILA, Philippines — To overseas Filipino workers (OFWs) returning from Kuwait, President Duterte is promising money and a comfortable life – even if it will take making a pact with the devil.
"You come home and I will sell my soul to the devil to look for money so that you can come home and live comfortably here," Duterte said in remarks at the oath-taking of new appointees at Malacañang yesterday.
Duterte made the promise a few hours before he led the welcome for 150 Filipino workers from Kuwait who arrived at past 3 p.m. on Etihad Airlines.
The President blew his top on learning of rampant cases of abuses against Filipino workers in Kuwait and other areas in the Middle East.
He said abused workers ended up "mentally deranged."
In his profanity-laced speeches, Duterte would often mock Catholic clergy and tell his audience he was not afraid of going to hell for the killing of thousands as part of his war on drugs. He had even joked about kicking out Satan and taking over hell.
More than 300 distressed workers are returning home today also from Kuwait, according to the Overseas Workers Welfare Administration (OWWA).
OWWA chief Hans Cacdac said the 324 workers are set to arrive at the Ninoy Aquino International Airport (NAIA) on separate flights from Kuwait.
Over 800 OFWs have arrived home from Kuwait since Feb. 1. A total of 2,500 workers have expressed desire to avail of the government's repatriation program.
Also arriving today are the remains of the Filipina caregiver who died in the recent earthquake in Taiwan.
OWWA said her remains would be brought to her hometown in Tuguegarao tomorrow.
In compliance with President Duterte's ban on deployment of workers to Kuwait, Bureau of Immigration (BI) Commissioner Jaime Morente on Monday ordered the conduct of rigid inspection of all departing Filipino passengers.
Morente instructed BI Port Operations Division (POD) chief Marc Red Marinas to immediately enforce the ban and subject departing passengers to stricter immigration screening.
He said a rigid inspection of all departing Filipino passengers would discourage or stop illegal recruiters from circumventing the deployment ban by helping workers depart for Kuwait through an escort racket.
"We shall implement this deployment ban to the letter and immigration personnel who connive with the escort syndicates will be dealt with severely," Morente said.
The official urged the public not to hesitate in reporting BI personnel involved in nefarious activities.
Mariñas directed BI Travel Control and Enforcement Unit (TCEU) head Julius Caesar Feria to instruct his men at all ports to be doubly vigilant in assessing and monitoring departing passengers.
He also said that in the absence of specific instructions, the ban on Kuwait deployment would also cover "Balik Manggagawa" or returning workers.
Alarmed by the plight of Filipinos in Kuwait, a Catholic Bishops' Conference of the Philippines (CBCP) official is urging the remaining Filipino workers in Kuwait – particularly the undocumented – to take advantage of the repatriation program of the government.
In a statement, Bataan Bishop Ruperto Santos said the CBCP-Episcopal Commission on Migrants and Itinerant People (CBCP-ECMI) which he chars support Duterte's total deployment ban directive.
"We at CBCP ECMI fully support the decision of the President for the deployment ban of OFWs to Kuwait. With that decision is our strong message that enough is enough. Life matters. Life should never used nor abused," Santos said.
"A life of OFWs is also precious. A single Filipino is important and someone special. We protect life. Their rights be respected, their dignity be promoted," he said.
Those involved in the abuse of Filipino workers should be brought to justice and the placement agencies that facilitated their employment abroad should be investigated and punished if found guilty, the Church official added.
"Let us create more jobs so that they will never be forced to work abroad, be separated from their families," he added.
Meanwhile, authorities have expressed concern over reports Filipino domestic helpers in Hong Kong are being recruited to Russia under commercial (business) visas for employment as household service workers.
Consul General Antonio Morales of the Philippine Consulate General in Hong Kong met recently with Russian Consul General Alexander Kozlov at the Russian Consulate General to discuss the matter.
Morales said holders of such business visas are not allowed to work.
Both consulates agreed to work closely together to address the issue in concerted efforts to ensure that the rights and welfare of Filipinos are protected and that Russian immigration laws are not violated.
In October of last year, the Hong Kong Labour Department raided employment agencies involved in facilitating deployment of domestic helpers from Hong Kong to Russia.
The Philippine embassy in Moscow warned against illegal recruitment following an increase in cases of Filipinos in Russia recruiting their countrymen for household jobs in that country. – Mayen Jaymalin, Evelyn Macairan