Duterte: Arrest illegal recruiters
February 12, 2018 | 12:01am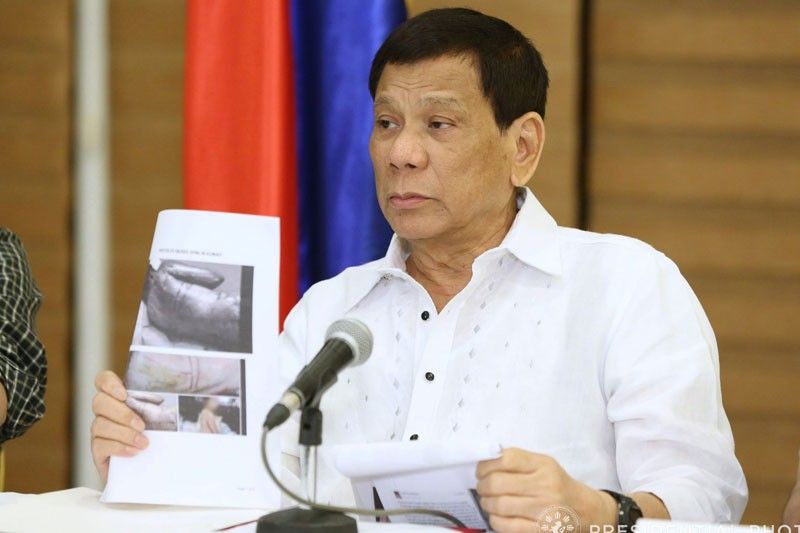 DAVAO CITY , Philippines — Following the grisly murder of a Filipina and the suicide of several others who were reportedly raped in Kuwait, President Duterte has ordered a crackdown on illegal recruiters.
"I want all of them… arrested and placed behind bars, to face charges," the President said during a press conference here over the weekend.
He said the crackdown would include the recruiters' cohorts in government.
Duterte ordered all concerned agencies including the Philippine National Police, National Bureau of Investigation, Coast Guard and the Bureau of Immigration, especially the components assigned at ports and airports, to be on the lookout for the illegal deployment of Filipinos for work abroad.
"It's a continuing crime and we will have them arrested and detained without bail," the President said as he stressed that illegal recruitment is a non-bailable offense.
Duterte said Justice Secretary Vitaliano Aguirre II would issue the order on the crackdown.
"I'd like to see to it that, either (through the) back or front door, I would like to task the Philippine National Police regional commander Morente, he has to walk the extra mile (to look out for recruitment victims); the NBI, Coast Guard and mostly the component sa mga pantalan, but usually sa eroplano 'yan," Duterte said.
Some of the OFWs pass through the backdoor by riding on pump boats from the farthest point in Western Mindanao to the islands of Eastern Malaysia.
The President also cautioned Immigration and Customs personnel at the airports to refrain from abusing the returning OFWs by opening their bags.
The President said he will ask the Department of Tourism to review the processing in travel agencies.
Illegal recruiters at times use tourist visas in recruiting OFWs to certain countries.
Duterte said he does not mind being tagged a dictator as long as he knows what he is doing is for the people.
"If I become a dictator, unlawfully, you kill me. But in the meantime, I gave the orders because I have to protect the people. I do not enjoy giving – hindi ako military, order dito, order doon," Duterte said, stressing he is not bossy by nature.
Repatriation flights
Philippine Airlines (PAL) and Cebu Pacific are mounting flights to repatriate overseas Filipino workers (OFWs) from Kuwait in response to the call of President Duterte.
"In support of President Rodrigo R. Duterte's request for Philippine carriers to help repatriate Filipino OFWs in Kuwait, PAL will be mounting a special flight from Kuwait to Manila within the next few days," PAL said in a statement.
Labor Secretary Silvestre Bello III said President Duterte has directed him to issue an order imposing a total deployment ban to Kuwait after a Filipina worker in Kuwait was found dead and stuffed inside a freezer.
Overseas Workers Welfare Administration (OWWA) said the body of Joanna Demafelis was discovered in a sitting position inside a freezer.
The flag carrier PAL will be utilizing its 363-seater Airbus A330 for the flights.
"In the service of our kababayans (countrymen), we will be ensuring their safe journey back to the Philippines. It is the flag carrier's privilege to be of service to those in need. PAL is more than ready to mount extra flights to Kuwait, as needed," PAL said in a statement.
For its part, Cebu Pacific said it will be working with the Department of Foreign Affairs and the Philippine embassy in Kuwait on the final travel arrangements.
In a statement, Cebu Pacific also said it is mounting a special charter flight from Kuwait to Manila for free following the call for assistance by the government to repatriate Filipino workers in Kuwait.
It said it would deploy the Airbus A330 aircraft, which has a maximum capacity of 436 passengers for the charter flight.
"Special arrangements are being made since Cebu Pacific no longer has regular commercial air service between Manila and Kuwait," Cebu Pacific said.
Aside from the free flight, Cebu Pacific said it would provide free food and refreshment, as well as baggage allowance for all passengers on the charter flight.
Both carriers are working with the Department of Foreign Affairs and the Philippine embassy in Kuwait on the necessary travel arrangements.
Duterte earlier called on the airlines to make available special flights to allow the repatriation of Filipinos in Kuwait.
Over 2,500 undocumented OFWs have registered with the Philippine embassy in Kuwait for repatriation.
The first batch composed of 50 workers from Kuwait arrived in Manila yesterday, the Department of Foreign Affairs said.
The DFA Office of Migrant workers Affairs said the second batch of 400 workers is scheduled to arrive today from Kuwait.
Migrante said the deployment ban may pose more problems since there are no jobs available for the affected workers.
Some recruitment officials also expressed fear that the deployment ban will lead to proliferation of illegal recruitment of OFWs to Kuwait.
Exemption from ban
The Department of Labor and Employment (DOLE) reported yesterday that OFWs on vacation in the country and slated to return to Kuwait are expected to be exempted from the deployment ban.
Bello said DOLE is studying the possibility of excluding returning workers from the deployment ban to be issued today.
"The likelihood of exempting balik manggagawa (returning workers) is under study," Bello disclosed.
OWWA administrator Hans Cacdac instructed welfare officers in Kuwait to provide assistance to Philippine embassy officials handling the case of Demafelis.
OWWA will also provide psycho-social support and other necessary assistance to the family of the Filipina worker.
Presidential spokesman Harry Roque said in a statement yesterday that migrant workers affected by the deployment ban will receive assistance from OWWA "and may be deployed to more humane countries such as Oman and Bahrain."
Bello said he is not going to Kuwait unless it is necessary for him to join the group tasked to repatriate about 2,000 workers from Kuwait.
He said only workers who are willing to go home would be repatriated.
Bello said the repatriation of OFWs from Kuwait will be voluntary.
He said Filipino workers being treated right by their employers and enjoying good working conditions will not be asked to go home.Those who want to return home, he said, should just go to the Philippine Overseas Labor Office (POLO) and express their desire to avail themselves of the repatriation program.
Bello said he discussed with the Kuwaiti ambassador the growing cases of abuse of OFWs and they agreed to forge a bilateral agreement to address the problem.
The labor chief said he was actually set to order the lifting of the suspension on deployment of workers to Kuwait, but the news report on the body of an OFW found in a freezer came out.
According to Bello, he was called by President Duterte to Davao City for an emergency meeting and instructed to impose a total deployment ban.
Bello said there are about 270,000 OFWs in Kuwait, including 50,000 undocumented.
To prevent the illegal deployment of OFWs due to deployment ban, Bello said, the DOLE will strengthen rules and intensify the drive against illegal recruitment. With Louella Desiderio, Mayen Jaymalin, Pia Lee-Brago, Rudy Santos, Alexis Romero