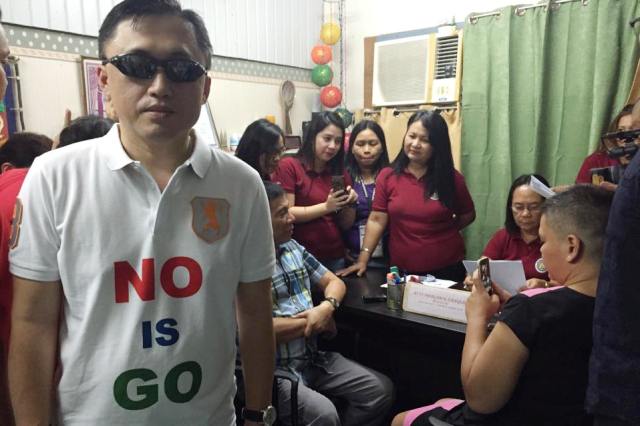 Bong Go was President Rodrigo Duterte's executive assistant while mayor of Davao City. File photo
Bong Go: Duterte just joking about senatorial bid
MANILA, Philippines — Special Assistant to the President Christopher "Bong" Go on Wednesday clarified that he has no plans of running for senator.
"My running for senator is just a joke from PRRD (President Rodrigo Roa Duterte)," Go said in a statement sent to media.
"PRRD only mentioned it in jest in view of my demand for the Senate to conduct a full-blown public hearing and get to the bottom of the frigate controversy," he said.
Go was referring to his alleged interference in the procurement of a combat management system for two missile-capable frigates for the Philippine Navy. Generally, frigates are warships that perform a variety of roles including escort and shore bombardment.
Go made the statement after President Rodrigo Duterte last Tuesday said that attending a Senate probe to clarify his alleged interference in the deal is a "golden opportunity" for his senatorial bid.
The presidential aide said he is not interested in running because he is committed to assisting Duterte. "I am committed to stand beside him till kingdom come," Go said.
Go insisted that he is only demanding a full-blown Senate hearing into the frigate deal issue to clear his name, and to prove that he did not intervene.
He earlier denied Magdalo Rep. Gary Alejano's allegation that he had information or knowledge in the Navy's purchase of combat management system for its ships. Defense Secretary Delfin Lorenzana said he had mistakenly attributed a document from Go's office asking about the deal to Go himself.