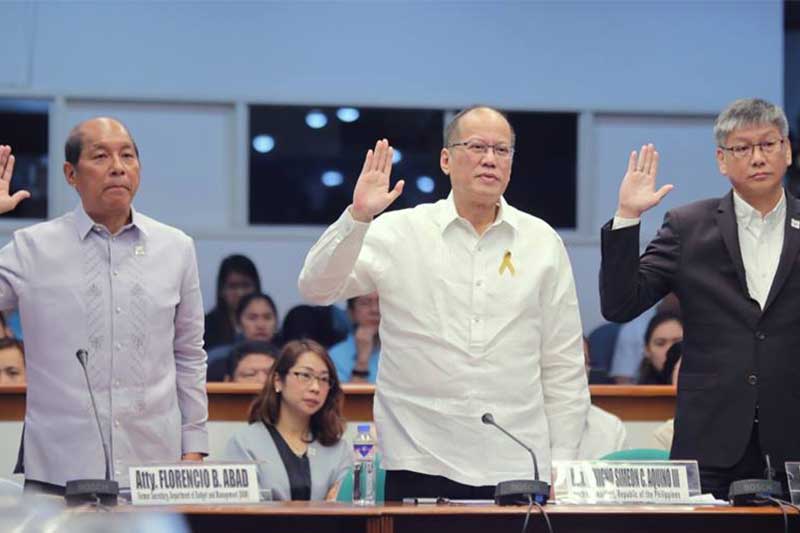 Former President Noynoy Aquino, together with former Executive Secretary Paquito Ochoa and former Budget Secretary Butch Abad took their oath during the hearing on the alleged P3.5 Billion worth of questionable dengue vaccines that had been administered by the DOH to 280,000 students without passing through WHO prequalification requirements.
Senate PRIB/Joseph Vidal
House panel to invite Aquino to Dengvaxia probe
(Philstar.com) - February 7, 2018 - 1:53pm
MANILA, Philippines — Former President Benigno "Noynoy" Aquino III is expected to attend the next inquiry into the Dengvaxia controversy after a House panel approved the motion to invite him.
The House committee on good government and public accountability approved Buhay Partylist Rep. Lito Atienza's move to invite Aquino in order to shed light in his administration's P3.5-billion dengue vaccination program.
Atienza moved to invite the former president after the House panel called off the probe into the deal between the Bureau of Corrections and Tagum Development Corporation.
"We invite the former president, no less, and budget secretary, no less, not representative from the two particular offices of this administration," Atienza was quoted by reports during the House probe.
"We move that we invite them so they can help the nation in turmoil and in agony and appreciate the truth on how, when, where, who on this Dengvaxia mess," he added.
Aquino previously attended the Senate Blue Ribbon and Health committees separate hearing into the Dengvaxia controversy.
READ: Aquino: No one objected to Dengvaxia use
The former president defended his administration's vaccination program and said no one objected into it before they decided to procure and launch it.
Dengvaxia program became in question after Sanofi Pasteur admitted that the vaccine poses potential threats to individuals who had no prior dengue infection.
The vaccine-maker's disclosure caused fear among parents, with some of them now refusing immunization.
In 2015, Aquino ordered the realignment of the vaccination fund from the budget to purchase three million doses of Dengvaxia from Sanofi Pasteur. The vaccine program was launched in April 2016 and more than 830,000 students received it.
Aquino and former Health secretary Janette Garin faces complaints in connection with the vaccination program before the ombudsman. — Rosette Adel
RELATED: Aquino charged anew over Dengvaxia