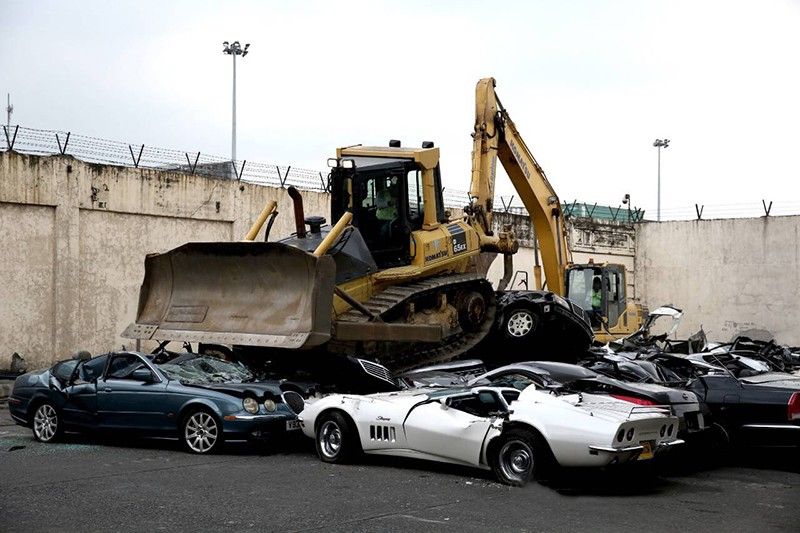 Smuggled luxury vehicles were destroyed at the Bureau of Customs in Manila during the agency's anniversary.
Photo Courtesy of Special Assistant to the President Christopher Go
Duterte leads destruction of smuggled luxury vehicles
MANILA, Philippines — President Rodrigo Duterte on Tuesday oversaw the destruction of more than P61 million worth of smuggled luxury cars at the Bureau of Customs just days after he promised the demolition of the vehicles illegal brought to the country.
Destroyed at the Customs headquarters in Manila were 20 illegally imported vehicles which included brands such as Pajero, BMW, Jaguar, Audi, Mercedes, Ford Explorer, Corvette Stingray and Lexus.
The president said last week that he would no longer allow the auction of smuggled luxury cars as this was being taken advantage of by importers to skirt paying the right amount of customs duties.
"Consignee fake news, fake name, fake address, Your style is you wait for one year and six months and then these are put on auction wherein you are also the ones who buy them. In that way, if these are auctioned then the importation of these luxury vehicles already becomes legal," the president said Friday in front of indigenous peoples.
The Bureau of Customs seized 30 smuggled luxury cars, which included a McLaren worth around P13.3 million.
According to a report by The STAR, nine of the cars were seized at Manila's port, two were at the Manila International Container Port, nine at the Port of Subic, seven at Davao Port and three at the Port of Cebu.
Aside from the condemned cars in Manila, 10 others were destroyed in Cebu and Davao City.
Despite the need to raise revenues to finance its massive infrastructure projects, the president refused to auction the smuggled items which he said was being used by illegal importers to acquire the vehicles at a lower price. — Video report by Kat Leandicho and Alexis Romero; Clip from RTVM