Senators remind UP students: Study first before protests
February 2, 2018 | 7:27pm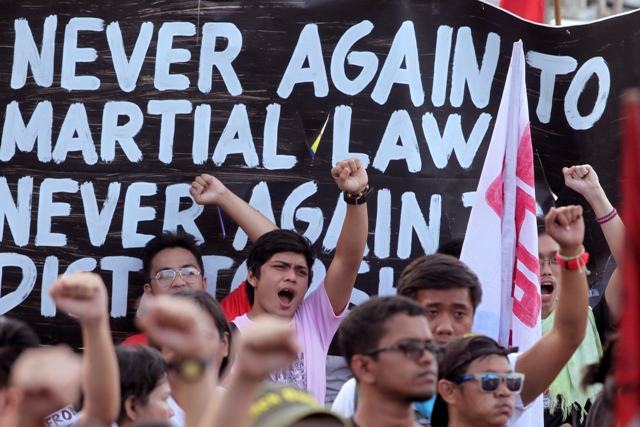 MANILA, Philippines — Two senators who belong to the Senate majority caucus on Friday urged protesting students to be responsible in their expression of dissent and to conduct demonstrations outside class hours.
Their statements came a day after President Rodrigo Duterte threatened to remove students of the University of the Philippines who walked out on Thursday and held a demonstration on the campus to protest some state policies.
Duterte, speaking at a gathering of indigenous peoples in Mindanao, said that students who would keep on walking out of their classes would lose their slots in UP to "bright" Lumad students.
Sen. Richard Gordon reminded the state university students of their responsibilities to be diligent in their studies and to avoid leaving their classes to protest.
"The president is just advising them in a very stern way. They are our nation's scholars. They get quality education for a little amount. Many would like to get into UP every year. The president is just ruing the fact that it's difficult to get into UP yet the students are not attending their classes," Gordon said in Filipino.
READ: Kabataan: More students to hold protests despite Duterte's threat to kick them out
Sen. Sherwin Gatchalian also reminded the protesters that their primary responsibility was to finish their students and join the ranks of productive citizens who would help in nation building.
"Voicing out opinions should be conducted responsibly and fairly," he said.
"It should be conducted during off school hours so that others will not be disturbed or distracted," Gatchalian added.
Gordon however clarified that he was not against students who would become activists as they also had a responsibility to their country.
"There are many ways of expression through Facebook and other social media sites. There is no need to disrupt the operations of the school," Gordon said, reminding the students to not go overboard in their rallies.
UP students staged a massive walkout on Thursday to participate in the National Day of Walkout Against Tyranny and Dictatorship organized by so-called progressive groups to assail the Duterte government's assault on democratic institutions.
Students of UP who took part in the protest remained unfazed and insisted that they would continue with their bigger protest slated on February 23.
"Duterte has the gall to say that he will provide university slots to Lumads, yet only months prior he has unabashedly threatened to bomb Lumad schools in Mindanao, along with sending military troops to their communities, harassing them and causing them to evacuate from their ancestral lands," the Student Alliance for the Advance of Democratic Rights in UP (STAND UP), a political party in UP, said in a statement.
The National Union of Students of the Philippines also shrugged off the presidential remark and said that this was evidence of his fear of broadening protests against him.