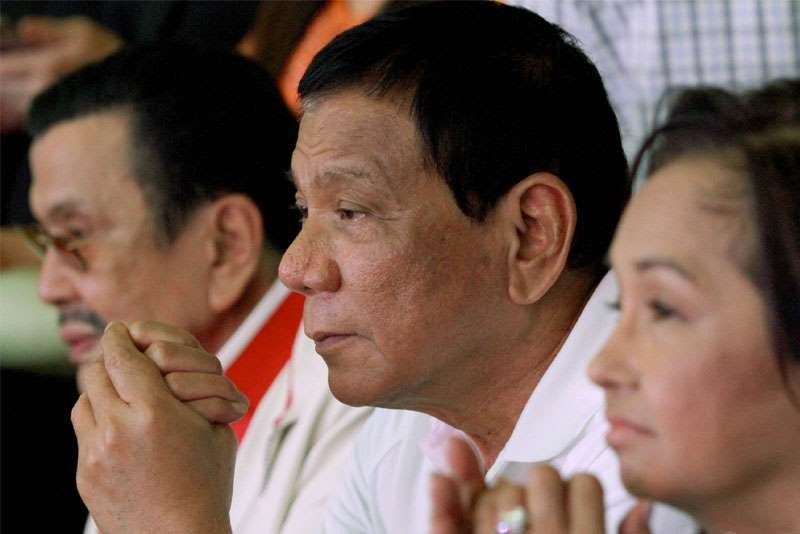 President Rodrigo Duterte is among the guests of former president and current Manila City Mayor Joseph Estrada who celebrated his 80th birthday at Manila Hotel on April 19, 2017.
PPD/Rey Baniquet
Fact check: Sal Panelo on Ombudsman's power to probe Duterte
MANILA, Philippines (First published on Feb. 1, 2018) — Chief Presidential Legal Counsel Salvador Panelo stressed that the Office of the Ombudsman cannot initiate an investigation into violations of a sitting president.
On ANC's "Headstart" on Thursday, Panelo cited presidential immunity from suit in arguing that Duterte cannot be subject to an investigation by the anti-graft agency.
"[Y]ou know there is a principle that you cannot chain the president from doing his job. You investigate him, you charge him and then his focus will be on the charges against himself because he has to defend himself," Panelo said.
He said that once the president is no longer in position, that is the "time when you can charge him with all the kinds of cases you want to initiate against him."
"We should not bother him," Panelo added.
READ: SC ruling that may help Carandang deemed irreversible
Constitution mandates Ombudsman to initiate probe
Article XI of the 1987 Constitution or the Accountability of Public Officers grants the Office of the Ombudsman the power to "investigate on its own, or on complaint by any person, any act or omission of any public official, employee, office or agency, when such act or omission appears to be illegal, unjust, improper or inefficient."
It was the same office that conducted an investigation into the hidden wealth of then-president, and now Manila Mayor Joseph "Erap" Estrada, in 2001.
In its Nov. 19, 2001 decision, the Sandiganbayan cited that Estrada, then president, was the "highest-ranking official to be prosecuted" under Republic Act 7080 or the act defining and penalizing the crime of plunder.
The Ombudsman also probed former president, now Rep. Gloria Macapagal-Arroyo (Pampanga), for her alleged involvement in the anomalous National Broadband Network-ZTE deal.
Investigation into Duterte's wealth
It was revealed in September 2017 that the Office of the Ombudsman is currently conducting a probe into two issues involving President Rodrigo Duterte and his family.
Firebrand leader Duterte and Ombudsman Conchita Carpio-Morales were then involved in a heated exchange over the Office of the Ombudsman's statement that it would be looking into the Duterte family's bank transactions.
READ: Ombudsman to Duterte: If you have nothing to hide, you have nothing to fear | Duterte wants to probe agency investigating his wealth
Amid impeachment threats Duterte issued against Morales, the ombudsman remained defiant: "I will not be baited into abandoning my constitutional duties."
The Office of the Ombudsman assigned Melchor Carandang, its overall deputy, to lead a fact-finding investigation into allegations of Sen. Antonio Trillanes IV that the chief executive has P2 billion in his bank. This supposed wealth is not disclosed on Duterte's statement of assets, liabilities and net worth.
Earlier this week, Salvador Medialdea, Duterte's executive secretary, ordered Carandang to be suspended for 90 days for his alleged grave dishonesty. But Carpio-Morales is set to defy the Palace order, citing a 2014 Supreme Court ruling that voided the president's powers to discipline an official of her office.
Besides Duterte, his son, resigned Davao City Vice Mayor Paolo Duterte, and his son-in-law, Mans Carpio, is being investigated for their alleged involved in a P6.4-billion shabu shipment that slipped past Customs.