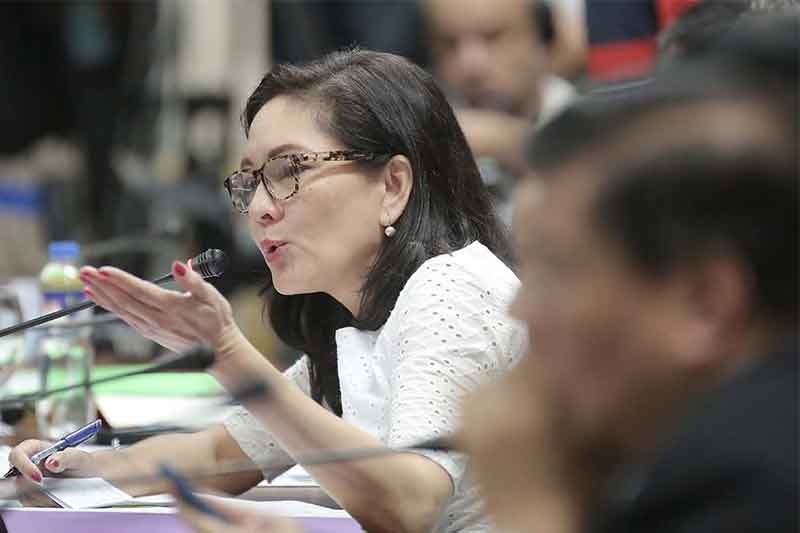 Sen. Risa Hontiveros said BBL is an institutional recognition of the justness and legitimacy of the cause of the Bangsamoro people. Senate PRIB
Hontiveros tells colleagues: Focus on BBL passage instead
MANILA, Philippines — Sen. Risa Hontiveros on Tuesday called on her fellow lawmakers to shift focus and work together in passing the Bangsamoro Basic Law amid the ongoing tension between the Senate and the House of Representatives.
Hontiveros said it is the high time to pass the "long-delayed" measure.
"Instead of the endless and self-serving talks on extending the term limits of public officials, let us deliberate the passage of laws such as the BBL that will benefit the people," she said.
Hontiveros stressed that BBL is an institutional recognition of the justness and legitimacy of the cause of the Bangsamoro people.
"If we really want a positive transformation of Philippine society and a progressive reinvention of our concept of national community, our Moro brothers and sisters' full political inclusion through a genuine exercise of autonomy and ample representation in our democratic institutions, a complete acknowledgement of their claims and their ancestral lands and full respect for their cultural and respect for their cultural and religious freedoms must be realized," she said.
Last January 17, Hontiveros filed Senate Bill 1652 or the "Bangsamoro Basic Law," which was adopted from the version of the Bangsamoro Transition Commission.
READ: Senators commit to passage of Bangsamoro Basic Law
Sen. Juan Miguel Zubiri, Senate sub-committee on BBL chair, earlier promised that the measure will be ready for plenary debate by March.
The BBL implements the final peace agreement between the government and the Moro Islamic Liberation Front. The measure seeks to create a new region in place of the Autonomous Region in Muslim Mindanao, which will have more autonomy but will also remain a part of the Republic of the Philippines.
President Rodrigo Duterte, the country's first president from Mindanao, had earlier promised to shepherd the bill through Congress, which has shown a willingness to vote according to his policy statements.
But the Senate and the House of Representatives are in a middle of debate on what mode they will use to draft a new Constitution.
The lower house has already adopted a resolution to convene as a constituent assembly.
The Senate, however, has insisted that it will not meet with the House as a constituent assembly without assurances that voting would be separate.
READ: Liberal senators: Senate will not be bullied on charter change