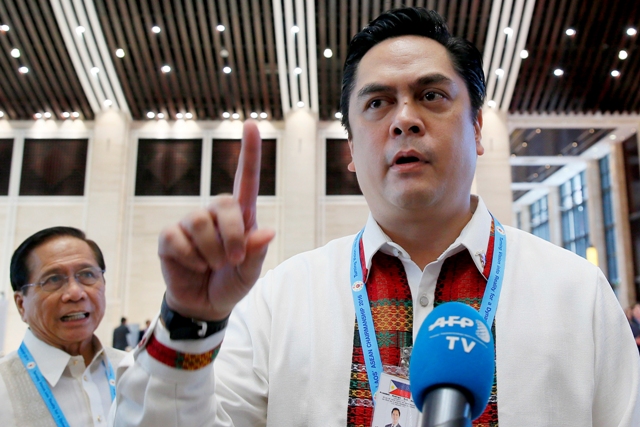 Presidential Communications Secretary Martin Andanar identified the Japanese firm as KDDI, a telco giant that also has investments in Myanmar and Mongolia. AP/Bullitt Marquez, file
Andanar: Firms from Japan, Taiwan also interested in being third telco player
MANILA, Philippines — Companies from Japan and Taiwan are also interested to invest in the Philippines' telecommunication industry, a cabinet official said yesterday.
Presidential Communications Secretary Martin Andanar identified the Japanese firm as KDDI, a telco giant that also has investments in Myanmar and Mongolia.
The name of the Taiwanese telco player was not yet revealed because of a non-disclosure policy.
"KDDI is interested to join the bidding. A Taiwanese firm is also interested...But what is important is the speed of the internet will be faster, the garbled lines will be reduced or will be gone and there will be additional funding or investment in our country," Andanar told radio station dzMM.
China Telecom and South Korean firm LG Plus have also expressed interest to forge deals with local companies to become the Philippines' third telco player.
LG Plus is reportedly eyeing a joint venture with the Philippine Telegraph & Telephone Corp. (PT&T) to enter the country's telco industry, whose players are Philippine Long Distance Telephone Company and Globe Telecom.
The Duterte administration is inviting companies to invest in the telco sector to improve the internet services in the country, which has been criticized for being slow.
Andanar said KDDI's intention to become the third telco player was one of the topics discussed during the meeting between President Rodrigo Duterte and Japanese minister for internal affairs and communications Seiko Noda last week.
He said the third telco player needs to invest P300 billion to P400 billion in the next five years.
Interested players are expected to submit their terms of reference by February 19. Companies should formally signify their intention to join the bidding by the end of March, Andanar said.
"By March, we will conduct the open bidding," he added.
President Duterte previously ordered agencies to ensure that the third telco player would be operational within the first quarter. He has also warned the judiciary against issuing temporary restraining orders that would delay the entry of the third player.
Asked whether it is possible to have more than three players, Andanar replied: "We have to take into consideration the size of the Philippine market. I think we should have up to three players. At least the market in the Philippines will be lucrative to these telcos."
"Imagine investing P400 billion in an industry with four or five players. You will not earn much...So three players for the Philippines could be enough at this point," he added.