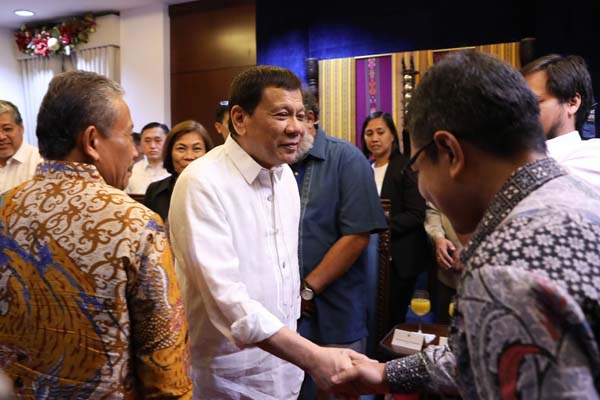 In this January 3 photo, President Rodrigo Duterte greets the Indonesian Ministry of Foreign Affairs officials who joined Indonesian Foreign Minister Retno Marsudi as they paid a courtesy call on the President at the Presidential Guest House in Panacan, Davao City. KARL NORMAN ALONZO/PRESIDENTIAL PHOTO
Palace: Duterte keen on working from Davao more
MANILA, Philippines —Presidential spokesperson Harry Roque on Friday hinted President Rodrigo Duterte might spend more time governing the country from Davao City, where he was mayor for more than 20 years.
"My prediction is coming true: The president appears to be spending more time in Davao than in Malacañang," Roque said in a press briefing held in Valencia City, Bukidnon.
"In fact, last week, he asked the Indonesian foreign minister to meet with him in Panacan," he added, noting that the Presidential Guest House in Panacan, Davao City now has the facilities to receive foreign dignitaries.
The compound has been referred to as 'Panacañang' or the 'Malacañang of the South.'
During the campaign for the 2016 elections, Duterte said that should he be elected president, he would go home to Davao every day instead of sleeping in Malacañang—the country's historical seat of power.
"I will go home to Davao City every day after office hours because I want to sleep in my own bed. I will not sleep in Malacañang," he said.
Duterte, who has axed several government officials for allegedly using the public's money in their travels, said he would borrow the private jet of religious leader Pastor Quiboloy to spare the government the expected expenses.
Duterte is the first president from Mindanao.