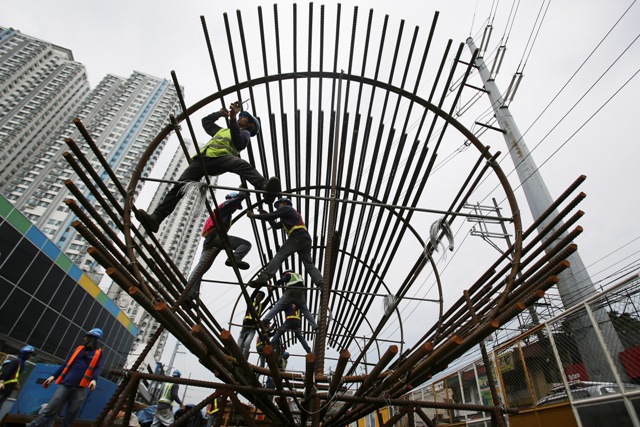 This is one of the consequences of the decision of Congress to delete all infrastructure project funding in the 2018 budget for these districts, opposition Rep. Edcel Lagman of Albay said yesterday. AP/Aaron Favila, File
'Infrastructure in 17 districts won't be finished in 2018'
Jess Diaz
(The Philippine Star) - December 28, 2017 - 4:00pm
MANILA, Philippines — The Duterte administration was warned yesterday that it would not be able to finish roads, bridges and other infrastructure projects in at least 17 legislative districts next year.
This is one of the consequences of the decision of Congress to delete all infrastructure project funding in the 2018 budget for these districts, opposition Rep. Edcel Lagman of Albay said yesterday.
He said the decision would adversely affect the construction of roads and bridges, highways leading to tourism destinations, diversion roads intended to decongest traffic, flood protection structures like dikes and seawalls, and public buildings.
"What is worse is that highways and bridges for completion in 2018 would be left hanging and unfinished," he said.
He stressed that by scrapping all infrastructure projects and their appropriations, Congress is punishing residents of the affected districts and people passing through these areas.
At least 24 opposition and leftist House members and several belonging to the majority coalition reportedly lost their funds. Nine are party-list representatives with no specific districts.
Those affected in Metro Manila are Edgar Erice of Caloocan City and Jorge Banal and Jose Christopher Belmonte of Quezon City.
In other parts of Luzon, aside from Lagman, those who were deprived of infrastructure projects were Teodoro Baguilat Jr. of Ifugao, Francis Gerald Abaya of Cavite, Vicente Alcala of Quezon and Imelda Marcos of Ilocos Norte.
In the Visayas, Raul Daza of Northern Samar, Milagros Tan of Samar and Emmanuel Billones of Capiz were deprived of projects.
The affected lawmakers from Mindanao include Kaka Bag-ao of Dinagat Islands, Aurora Cerilles of Zamboanga del Sur and Valentina Plaza of Agusan del Sur.
Lagman said the deleted projects were not proposed by the affected House members but by the Department of Public Works and Highways (DPWH) as part of its regular national infrastructure program.
In fact, they were included in the 2018 budget proposal President Duterte submitted to Congress in July last year, he said.
This was the first time DPWH projects in a lawmaker's district were scrapped "in their totality," he said.
He added that in the past, only fund releases from the Priority Development Assistance Fund (PDAF) were withheld but not those intended for DPWH projects.