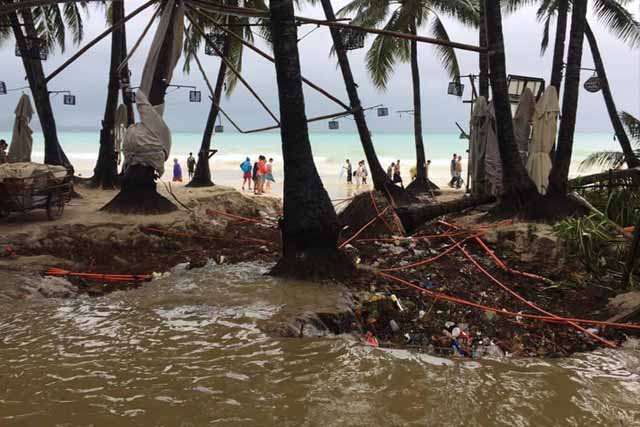 The island, dubbed by international travel magazine, Condé Nast Traveler, as Best Island in the World of 2016 and 2017, became an unrecognizable island as Urduja flooded the area. Christine San Diego, Facebook
Urduja death toll hits 46; 28 still missing
(The Philippine Star) - December 19, 2017 - 4:00pm
MANILA, Philippines — The death toll from Tropical Storm Urduja that pummeled the Visayas rose to 46 with hopes fading for dozens of others still missing after massive landslides, authorities said yesterday.
The death toll has increased to 46 from 42 the other day, after four more bodies were retrieved from the landslide areas and floods in Biliran, according to reports from the Police Regional Office (PRO)-8.
The number of missing persons has dropped to 28 from 34.
PRO-8 reported that as of 9:30 a.m. yesterday, 33 of the 46 bodies were dug out from the landslides, while 13 were found in the floods.
All of the newly recovered bodies were in Biliran, but these have yet to be identified.
Of the 28 persons still missing, 21 were last seen in Biliran, seven in Eastern Samar.
Many of those missing are feared buried by mud avalanches that struck Biliran, according to the National Disaster Risk Reduction and Management Council (NDRRMC).
"The retrieval operations are still ongoing but we are not finding anyone alive. We only find dead bodies," Sofronio Dacillo, a disaster monitoring officer, told AFP by telephone from Biliran.
Bulldozers continued to dig for survivors in houses buried by landslides in Biliran, located about 500 kilometers southeast of Manila.
The storm's slow movement caused large volumes of rain to fall on the Visayas, Philippine Atmospheric, Geophysical and Astronomical Services Administration (PAGASA) weather forecaster Jun Galang told AFP.
"It stayed almost stationary so it dumped a lot of rain and caused a lot of landslides which caused many deaths," Galang said.
The Biliran Provincial Board, meanwhile, in its regular session yesterday, approved the declaration of the entire province under a state of calamity.
Biliran Rep. Roger Espina said he was grateful for the visit of President Duterte who personally assessed the situation and the extent of the devastation of Urduja (international name: Kai-Tak).
Biliran Gov. Gerry Espina, for his part, assured the public that he would coordinate with the Department of Energy and other concerned agencies to closely monitor the prices of gasoline in disaster areas.
The NDRRMC reported that a total of 244,121 families or more than one million individuals from 1,669 barangays were affected by Urduja's widespread flooding and landslides in MIMAROPA (Mindoro, Marinduque, Romblon and Palawan), Bicol, Western, Eastern and Central Visayas and Caraga.
Of these affected families, 28,959 families or 100,169 persons have been forced to leave their houses to stay in 381 evacuation centers, while 17,577 families or 47,791 persons are staying with relatives.
A total of P41 million worth of assistance from the Department of Social Welfare and Development (DSWD) and the different local government units (LGUs) have been provided to those affected by Urduja.
DSWD officer-in-charge Emmanuel Leyco said field offices were mobilized to provide assistance to the five regions.
LPA approaches
Urduja left the Philippine area of responsibility (PAR) yesterday, but a brewing cyclone east of Mindanao threatened to bring more rains ahead of Christmas.
PAGASA continued to monitor the low-pressure area which was estimated at 1,290 kilometers east of Mindanao as of 3 p.m. yesterday.
The brewing weather disturbance is expected to enter the PAR today.
PAGASA senior weather specialist Chris Perez said the low-pressure area is likely to regain strength and become a cyclone again within the next 24 to 48 hours.
"Around 62 percent of the cyclones that form in this area cross the country and attain typhoon category," he said.
Meanwhile, the tail-end of a cold front will continue to bring cloudy skies with scattered rains over Cagayan, Isabela and Aurora until today.
Metro Manila, Ilocos region, Cordillera Administrative Region and the rest of Cagayan Valley and Central Luzon will also experience cloudy skies with scattered rains due to the northeast monsoon.
The rest of the country will be partly cloudy to cloudy with isolated rainshowers or thunderstorms.
P400 Million crops damaged
Damage to agriculture in areas affected by Urduja has reached almost P400 million, with the crops sector sustaining the most destruction, the Department of Agriculture (DA) said.
Initial reports from the DA showed that agricultural damage has amounted to P369.94 million covering 25,348 hectares of agricultural areas in Bicol and Eastern Visayas with estimated volume of production loss at 7,880 metric tons.
Despite the damage, Agriculture Secretary Emmanuel Piñol said there will be no significant effect on the supply of commodities, especially rice, during the Holidays.
"Crops in Biliran are just on the vegetative stage. There will be no effect in the supply. We are already expecting a bountiful harvest this year," he said.
State-run National Food Authority (NFA) has released more than 10,000 bags of rice in areas affected by Urduja.
NFA regional offices said they have so far released 2,900 bags of rice to Eastern Samar, 3,436 bags for Bicol, 3,682 bags for Northern Samar, 170 bags for Biliran as of yesterday.
NFA administrator Jason Aquino assured the public that there is sufficient rice supply in the affected regions and has instructed all NFA field officials to prioritize rice releases for calamity victims.
Some municipalities of Biliran, Northern Samar, Eastern Samar and Northern Leyte are still heavily flooded and some areas even had landslides. Roads also remain impassable with several bridges damaged.
Power supply in the area had been down for two days, causing a bit of delay in the operations of the NFA Operations Center.
A total of 11 roads and one bridge in four provinces, including Biliran, were badly damaged by Urduja and remain impassable to motorists, the Department of Public Works and Highways (DPWH) said.
The DPWH has already installed barricades, warning signs and traffic advisory to inform motorists where the DPWH is conducting clearing operations and repair of closed roads.
The Philippine Charity Sweepstakes Office (PCSO) will release P10 million from its calamity fund to support victims of Urduja.
PCSO general manager Alexander Balutan said they have approved the release of the amount for medicine and water.
"We have a yearly calamity fund of P100 million approved by the Department of Budget and Management for natural and man-made disasters. For 2017, we have more than P95 million left so we can use that for the typhoon victims," he added.
Meanwhile, the Department of Foreign Affairs (DFA) is coordinating with the Philippine Coast Guard and the Philippine National Police (PNP) Maritime Group on a yacht mishap and the death of an Australian sailor after he had clung desperately to a dinghy for four days in wild seas off the coast of the country.
Reports said Anthony Mahoney, 73, was sailing the Katerina from North Queensland to Subic with two other men when bad weather struck.
The two were identified as Laurie Miller and Lionel Ansselin and are now recovering in a hospital.
They met with violent storms and spent five days at sea.
They left the boat after activating emergency beacons, but by the time they were rescued Mahoney had died.
The Sydney Morning Herald reported that the Australian Maritime Safety Authority (MSA) said the trio activated an emergency beacon last Thursday after being caught up in wild weather.
MSA alerted Philippine authorities but it was not until Monday morning that a Filipino fishing crew located the men, who had ditched the yacht for a small dinghy.
France expressed yesterday its condolences to the families of the victims of the floods and landslides.
"In these difficult circumstances, France extends its sympathies to local authorities and communities and assures its full solidarity with the Philippines," the French embassy in Manila said in a statement. – Janvic Mateo, Helen Flores, Louise Maureen Simeon, Evelyn Macairan, Pia Lee-Brago, AFP