25 dead, 26 missing
December 17, 2017 | 4:00pm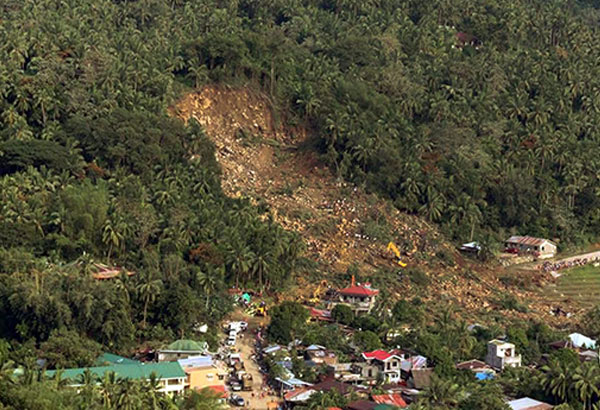 Biliran, romblon landslides
NAVAL, Biliran , Philippines — Incessant rains and a tornado spawned by Tropical Storm Urduja unleashed landslides in Eastern Visayas, burying alive scores of residents.
As of last night, 23 bodies had been recovered from the landslides in Biliran triggered by Urduja (international name Kai-Tak) while a couple was buried alive in a landslide in Romblon last Saturday.
Personnel from the Provincial Disaster Risk Reduction and Management Council (PDRRMC) told The Freeman and The STAR that 26 people were missing and feared to have been buried alive.
Senior Supt. Robert Morico, director of the Biliran Police Provincial Office, said search and retrieval operations would continue into the stormy night.
Rescuers dug into the mud from Saturday night until yesterday and were able to recover seven bodies – two of them children – from a landslide in Barangay Locsoon here.
The PDRRMC later identified four of the fatalities retrieved from a landslide in Barangay Iyusan in Almeria: Jimmy Jorge, 2; Winnie Garbo, 50; Maribeth Garbo, 50, and Wilma Garbo, 12.
Seven more bodies – including three children – were retrieved from another landslide at Barangay Cabibihan in Caibiran, where eight houses by the riverbank had been buried.
Ten other people were declared missing as of yesterday afternoon.
Caibiran Mayor Eulalio Maderazo said a tornado struck a hilly portion of a sitio in Barangay Cabibihan, causing the landslide that swept the eight houses at the foot of the hill, just beside the Caibiran River.
Some of the occupants were swept into the river where four bodies were recovered, two of which were those of an eight-year-old boy and a five-year-old girl, Maderazo said.
In an update yesterday afternoon, municipal health officer Dionesio Plaza said the recovered bodies from the Caibiran landslide have been identified: Rosal Español, 27; Jimson Español, 4; Judy Ann Español, 2; Manuel Bendecio, 25; Mylene Bendecio, 5; and 33-year-old Mernal Tangcap who was passing by when the landslide occurred.
Maderazo said the flooding in the town subsided yesterday afternoon.
Plaza said seven more persons were missing.
Maderazo said the town has no power. The Biliran Electric Cooperative said it might take a month before electricity would be restored in the province.
Maderazo added that the Larrazabal Bridge, linking Caibiran and Naval, had collapsed. The Caraycaray Bridge, connecting Naval and Biliran, also collapsed.
The PDRRMC and the Department of Public Works and Highways (DPWH) in Biliran initially estimated the damage to infrastructure in the province at P30 million.
Meanwhile in Balangiga, Eastern Samar one fisherman was reported missing and many roads there remained impassable as of yesterday.
The Office of Civil Defense 8 also reported that there were fatalities in Mahaplag, Leyte and that there was still no power in the province.
Police identified the couple in Romblon as Masolinie Romero and Matilde Romero, both 60 years old, residents of Barangay Mabini, San Fernando.
The couple was trapped by the landslide inside their house.
Investigation showed that the landslide took place at around 11 p.m. as heavy rain poured in the area, said Supt. Imelda Tolentino, spokesperson for the Region IV-B (Mimaropa) police.
Early yesterday morning, Jessie Roda, barangay captain of Mabini reported that the locality was heavily affected by the landslide.
19 hurt, thousands stranded
Urduja has injured at least 19 people so far, the National Disaster Risk Reduction and Management Council (NDRRMC) reported yesterday.
They suffered injuries from falling debris, vehicular accidents and landslides, said NDRRMC spokesperson Romina Marasigan.
As of yesterday, 4,327 families from Samar, Northern Samar and Eastern Samar have been evacuated to ensure their safety.
The NDRRMC has also recorded 15 landslides or erosions, four flooding and one incident of a boat capsizing as Urduja pummeled the Visayas.
Urduja has affected 51,004 families or 221,953 individuals from 492 barangays in Region V, VII, and XIII with 20,389 families or 87,917 persons moving to evacuation centers.
About 17,000 passengers remained stranded in ports across the country yesterday due to Urduja, according to the Philippine Coast Guard (PCG).
In a report from its headquarters in Manila, the PCG said a total of 16,996 passengers were recorded in over 50 ports as of noon as sea vessels were still not allowed to travel due to the stormy weather.
Most of the stranded passengers were in the North Harbor in Manila where a total of 4,027 people were bound for the Visayas and Mindanao for the Christmas break.
Apart from stranded passengers, the PCG said 118 vessels, 1,575 rolling cargoes and 34 motorboats were held off at different ports.
As of noon yesterday, a total of 62 flights were cancelled by AirAsia, Cebgo, Cebu Pacific, PAL Express, Skyjet and Zest airlines.
But operations at the Daniel Z. Romualdez Airport in Tacloban City have been restored fully after the storm's onslaught.
The airport resumed operation at 5 a.m. yesterday after its suspension last Dec. 15, causing all commercial flights to be cancelled, the Department of Transportation said in a statement.
Staff from the Civil Aviation Authority of the Philippines (CAAP), together with personnel from the Philippine Air Force and the Philippine Army, cleared the area of fallen trees and other debris, it added.
Airport personnel also reinforced the ceiling and installed portable floodlights at the parking area, according to CAAP director-general Jom Sydiongco.
Strong winds brought by the storm uprooted trees, caused a portion of the airport's cyclone perimeter fence to lean, and damaged airport facilities, according to Sydiongco.
CAAP officials reported that all airports in Region VIII are operational, only sustaining minor damage due to the storm.
These are the airports in Calbayog, Catarman, Catbalogan, Borongan, Guiuan, Tacloban, Biliran, Ormoc, Maasin and Hilongos.
Stormy Christmas
Urduja slightly weakened but will continue to dump rains over MIMAROPA (Mindoro-Marinduque-Romblon-Palawan) in the next days, the Philippine Atmospheric, Geophysical and Astronomical Services Administration (PAGASA) said yesterday.
Meanwhile, PAGASA warned that a new weather disturbance is threatening Urduja-hit areas.
The agency also warned the public against possible flashfloods and landslides as scattered to widespread rains will continue over the southern part of Mindoro provinces, Marinduque, Romblon, Palawan, Aklan, Capiz and Antique.
As of 5 p.m. yesterday, signal No. 1 remained hoisted over the southern part of Mindoro , Romblon, Palawan, Aklan, Antique and Capiz.
Urduja slammed into Samar on Saturday and made two landfalls in Mobo, Masbate and Sibuyan Island yesterday.
It was also expected to hit landmass at Aklan and Palawan within the next 24 hours.
As of 4 p.m. yesterday, Urduja had 65 kilometers per hour winds near the center and gustiness of up to 90 kph. It was forecast to move west southwest at 15 kph.
PAGASA weather forecaster Aldczar Aurelio said Urduja was projected to be over Romblon this afternoon and in the vicinity of Palawan tomorrow afternoon.
Urduja is expected to exit the Philippine area of responsibility on Wednesday morning.
It is expected to weaken further as it exits the country.
Aurelio also warned the public, especially fisherfolk, against big waves in the seaboards of Luzon and the Visayas with waves expected to reach as high as 4.5 meters.
PAGASA said Metro Manila and the rest of Luzon would have cloudy skies with scattered rains due to the northeast monsoon.
Eastern Visayas and Mindanao will experience partly cloudy to cloudy skies with isolated rain showers and thunderstorms.
Meanwhile, a new cyclone is threatening to hit the country days before Christmas.
Aurelio said the tropical depression was located 1,950 km east of Mindanao as of 2 p.m. yesterday.
The new weather disturbance – which will be locally named Vinta – packed winds of 40 kph near the center and gustiness of up to 50 kph.
Aurelio said if the cyclone maintains its present speed, it is likely to enter the Philippine area of responsibility on Dec. 22 and may follow the track of Urduja.
He said the usual track of cyclones during December is Visayas and Mindanao.
"While we don't know yet the strength and track of the new cyclone, it's important that we prepare for this," Aurelio said.
Ship, tugboat capsize
A tugboat towing a cargo vessel loaded with 90,000 bags of cement capsized last Friday noon due to strong winds and rains that hit Butuan City and nearby areas.
Capt. Elviro Baniera, captain of the tugboat owned by Strong Desire Shipping Co., said all his crewmembers were safe after they were rescued by locals at the wharf.
Adonis Villegas, bargeman of cargo vessel M/V Ocean 7 owned by West Ocean & Shipping, said all of his crew were also safe.
The Maritime Industry Authority is now investigating the incident.
Roads closed in Eastern Visayas
Two major roads in Eastern Visayas have been closed to traffic due to severe floods, the Department of Public Works and Highways (DPWH) said yesterday.
In a travel advisory, the DPWH said the Gandara Diversion Road in Samar and the national road from the junction Buray-Wright to the junction at Taft Road in Eastern Samar were both closed to vehicles as of 5:30 p.m. last Saturday.
The DPWH said the Gandara Diversion Road was not passable to light vehicles due to rising floodwater.
It said the national road in Eastern Samar, on the other hand, was closed to all types of vehicles due to flooded portions at Malinao, Taft and Mabuhay, Taft.
"Motorists are advised to use Marabut-Lawaan to Junction Buenavista road in entering Eastern Samar and in going to Tacloban where the (mud from the landslide) at Paya, Giporlos is already cleared," the DPWH suggested.
Meanwhile, five other roads were partially closed.
In Samar, the road at Barangay Cagmanipis Sur only has one lane open for vehicles due to rockslide.
In Biliran, only light vehicles are allowed to pass through Talibong Bridge due to cracks and washed out riprap.
The Sanggalang section, Naval-Biliran-Cross country road Locsoon section and Cabucgayan-Biliran all have only one lane passable due to landslides, the DPWH added.
Relief operations ongoing
Malacañang said government response teams would continue to work during the holidays to assist disaster-hit areas.
"Vital services, such as preparedness and response to disasters or calamities shall continue with their operations even during the holidays," presidential spokesman Harry Roque Jr. said in a statement yesterday.
Roque said the defense department and the NDRRMC are closely coordinating with other agencies and are working round the clock to render the necessary services.
He said the social welfare department has mobilized relief operations to provinces affected by Urduja.
The agency has a stockpile of 368,000 family food packs (FFPs) worth P223 million, food and non-food items worth P393 million, and available standby funds amounting to P245 million.
Malacañang assured communities affected by Urduja that the government is prepared to provide them assistance.
"We continue to observe the developments and the effect of storm Urduja. It has lingered and has caused rains here in Luzon. What we really want to impress in the people is they should not worry because the government's service is continuous," Presidential Communications Operations Office Secretary Martin Andanar told radio station dzMM yesterday.
"This is very unfortunate but don't worry because the government is on top of the situation," he added.
Andanar said the Department of Social Welfare and Development (DSWD) has pre-positioned relief goods and is ready to distribute them to storm-hit provinces.
He said all military assets are ready for deployment upon the recommendation of the NDRRMC.
The DSWD is providing relief assistance to families and individuals in Eastern Visayas and in Northeastern Mindanao.
DSWD Field Office 8 released last Saturday 1,040 FFPs; 2,080 pieces of malong; 2,080 hygiene kits and 20 sacks of clothing to augment the relief supply of the Tacloban City Social Welfare and Development Office.
The city has been placed under a state of calamity due to widespread flooding and landslides.
The field office has also released 894 FFPs; 1,788 pieces of malong; and 1,788 hygiene kits to the municipal government of Giporlos in Eastern Samar and 1,726 each of food packs, malong, and hygiene kits to the Barugo local government unit (LGU) in Leyte.
Meanwhile, DSWD Region XIII pre-positioned 2,575 FFPs in Tandag City, Surigao del Sur and in the island municipalities of Surigao del Norte and Dinagat Islands.
DSWD Region XIII is ready with 15,107 FFPs at the Tiniwisan warehouse in Butuan City for augmentation when needed. It has also 6,000 FFPs placed at a mobile storage unit in Placer, Surigao del Norte.
DSWD field offices in Mimaropa and Region V have also been monitoring the status of stranded passengers at different ports in the regions in close coordination with concerned LGUs. – With Michael Punongbayan, Edu Punay, Helen Flores, Ben Serrano, Rudy Santos, Alexis Romero, Ghio Ong, Rainier Allan Ronda