Military anticipating stepped-up NPA attacks
December 16, 2017 | 4:00pm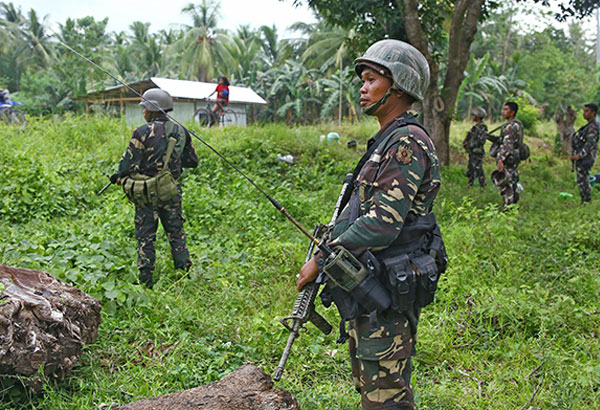 MANILA, Philippines — Amid the reported plans of communist rebels to launch attacks on its anniversary on Dec. 26, the military directed all troops to intensify operations to protect civilians and communities.
Army spokesman Lt. Col. Ray Tiongson said orders were given to the troops to protect civilians and put premium on human rights so as not to give the rebels an excuse to attack or recruit.
"While our troops on the ground are intensifying focused military
operations, they are directed to remain faithful and committed in the performance of their mandate to ensure peace and security in the communities, protect human rights and follow the rule of law," Tiongson said.
Tiongson made the statement following reports that the communist New People's Army (NPA) is gearing up to attack government forces to highlight the scheduled plenum in Agusan del Sur and Surigao del Sur in celebration of the 49th founding anniversary of the Communist Party of the Philippines (CPP) on Dec. 26.
Reports said the attacks will take place where the NPA has established strong presence in Eastern and Northern Mindanao, as well as provinces in Eastern and Western Visayas, Southern Tagalog, Bicol region, Central and Northern Luzon, Cordillera Administrative Region (CAR) and Cagayan Valley.
The military leadership has vowed to uphold human rights with the extension of martial law in Mindanao for another year.
Armed Forces of the Philippines (AFP) chief Gen. Rey Leonardo Guerrero said the one-year extension of martial law in Mindanao would specifically deal with the threats of Islamic State (IS) remnants and the communist NPA in the region.
The military used the strong presence of communist rebels in Mindanao as one of the arguments for recommending the extension of martial law for one year.
The AFP has activated two new military groups, the 88th and 89th Infantry Battalions. They will be deployed to the Eastern Mindanao Command (Eastmincom) to support the 15th IB and the 2nd Scout Ranger Battalion, both veterans of the fighting in Marawi City.
Eastmincom covers Southern Mindanao, Northern and Eastern Mindanao as well as part of Central Mindanao, the areas where the NPA mostly operate.
At least 50 percent of the total strength of the NPA in the country is reportedly operating in Eastmincom's area of operations.
Eastmincom said there are about 1,900 NPA rebels in its area.
Local military officials also warned of possible NPA attacks on its anniversary on Dec. 26.
Col. Andres Centino, commander of the Army's 401st Brigade in Agusan del Sur, said they have received directives from the Department of National Defense (DND) to sustain the military offensives against the NPA since there will be no traditional truce with the rebels during the holidays.
Centino said the directive was to prevent the NPA from gathering forces for their plenum in the area.
Centino was referring to the annual gathering of the NPA in the hinterlands of Agusan del Sur during their anniversary to show off their firepower before civilian supporters and local officials. – With Jaime Laude, Ben Serrano