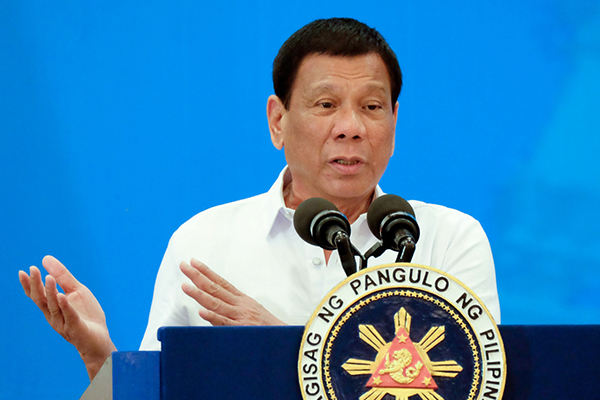 Some President Rodrigo Duterte allies said they could get the people to support their proposals, as they are "banking on his popularity." Rene Lumawag/Presidential Photo, File
Opposition warns of term extension for Duterte
Jess Diaz
(The Philippine Star) - December 15, 2017 - 4:00pm
MANILA, Philippines — Buoyed by the wide support President Duterte enjoys from the public, his allies in Congress are mulling over a term extension of at least two years for him and five years for them, opposition congressmen claimed yesterday.
Under the plan, the nation would have a new Constitution under a federal system of government in 2019. The congressional-local elections in May that year would be cancelled.
"These are some of the indecent variations that are being floated by administration allies," Bayan Muna Rep. Carlos Zarate said yesterday.
The further scenario: there would be a five-year transition. The new Charter would allow incumbent lawmakers to hold on to office for five years and President Duterte for two years until 2024, when new elections would be held under the envisioned federal Constitution.
The President and all other elective officials would have a term of office of five years with one reelection. Since Duterte was elected in May last year under the present Constitution, he would be qualified to seek the presidency again if the people approve a new Charter.
The President has repeatedly said he would accept a shortened tenure if the nation shifted to the federal system prior to the expiration of his six-year term of office in 2022.
"There is also the proposal that Congress be abolished in 2019 and allow President Duterte to exercise legislative power much like what the late president Ferdinand Marcos did until a new legislature is elected under a federal Constitution," Zarate said.
He said Leyte Rep. Roger Mercado admitted such scenario when he asked him about the variations Wednesday night, when the chamber opened floor debates on a resolution asking Congress to convene as a constituent assembly (con-ass) to work on a new Constitution.
Mercado chairs the House of Representatives committee on constitutional amendments, which has formed four groups tasked to revise parts of the Constitution assigned to them – from the preamble to the transitory provisions.
Zarate said though he elicited an admission from Mercado on the various variations being floated, these are not contained in the con-ass resolution.
"We were told that these indecent proposals would be discussed when the House and the Senate convene as a con-ass next month. The plan is to finish the new Charter in two-three months and submit it to the people for ratification in the May 2018 barangay elections," he said.
He said con-ass would also decide whether the system of government would be federal-presidential with a two chamber Congress or federal-parliamentary with a unicameral parliament.
He added that if the federal-parliamentary setup was chosen, there would be no term limits for members of parliament.
"They could also lift the term limits if it were a federal-presidential structure," he stressed.
As for the term of office, Zarate said the preference "is five years, since they feel that three years is short."
Duterte has expressed preference for the French model with a strong president.
Zarate said he does not believe people would accept a term extension for elective officials.
"We in the militant sector, for example, will definitely oppose it," he said.
He said some proposals Duterte allies are floating "are as dangerous as his revolutionary government plan."
"They will amount to a constitutional power grab," he stressed.
Some Duterte allies said they could get the people to support their proposals, as they are "banking on his popularity."
For his part, former Bayan Muna representative Neri Colmenares said the envisioned federal Constitution would also overhaul the judiciary.
"They will abolish the Court of Appeals and reconstitute it into 18 regional courts and the Sandigayanbayan into seven territorial divisions," he said.
He said regional district courts would replace all regional trial courts and President Duterte would have the power to appoint or reappoint all justices and judges.
"He will be a very powerful president," he added.
Federal movement
Meanwhile, a Duterte ally has announced the launch of a movement that would help in the setting up of a Federal State of Mindanao Sulu and Palawan (Minsupala) comprising Muslim, Christian and lumad sub states.
Benito Ranque, convenor of the movement for Federal State of Minsupala, said related consultations are ongoing with the Moro Islamic Liberation Front (MILF), Moro National Liberation Front (MNLF) and with tribal and Islamic leaders in Mindanao.
"The movement for Federal State of Minsupala is in response to the call of President Duterte for the shift of government from presidential to federal," Ranque said.
He said creation of tribal sub states under the Minsupala Federal state will also strengthen the spirit of the Indigenous People's Right Act (RA 8371), which gives full recognition to the ancestral lands of tribal Filipinos.
"The aspiration for self rule and autonomy is the root of the century-old secessionist problem in Mindanao that President Duterte wants to put to an end," he said.
Ranque said vast natural resources in the so-called ancestral lands could be developed and used to spur economic development at the grassroots level.
At present he said some big mining companies in Mindanao were given priority in the exploration of ancestral lands. – Perseus Echeminada