No one to blame for dengue vaccine mess – Duterte
December 13, 2017 | 4:00pm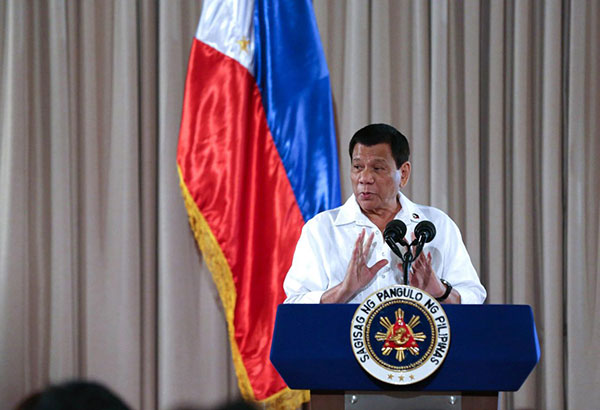 MANILA, Philippines — President Duterte is not passing judgment on anyone with regard to the Dengvaxia vaccine mess but is hopeful that the truth about the controversy will come out.
This developed as former president Benigno Aquino III said he would face the Senate probe into the controversy, to present the truth and promote a "sober discussion" leading to the crafting of "appropriate actions" on the issue.
Duterte said Congress or an independent body could investigate the issue, which is hounding former president Benigno Aquino III and some of his appointees.
"If there is a failure, let them sort it out. An independent investigation (or) Congress would do it, if they'd get to listen to the experts who are available here in the Philippines today. If not, they can always commission another body to come up with an independent study," Duterte told reporters yesterday at Fort Bonifacio in Taguig.
"I am not prepared to pass judgment. I can only inquire and hope that everything will give us the truth because anything here in this planet requires truth," he added.
The Aquino administration has been accused of administering the vaccine despite warnings about the health risks it posed. It has also been accused of rushing the purchase of Dengvaxia from French pharmaceutical firm Sanofi Pasteur even if studies on the vaccine's safety have not been finished.
Duterte believes Sanofi will not destroy its reputation because of a blunder. "The manufacturer, it is a reputable company in the world of drug manufacturing. That's it. So I do not think that they will be ready to destroy a billion-dollar business just for one lousy (blunder)," he said.
Duterte said he would also administer vaccines that would save lives if he were president during the time dengue fever cases were on the rise.
"You know, I have 10 grandchildren… If there is anything that can save the lives of any one of them or any Filipino for that matter, considering my position, I will order the implementation. Unless there is a study or a counter-statement to the efficacy and the danger of the drugs," he said.
Duterte said he was presuming good faith in the actions of former health secretary Janette Garin, who was the health chief when the vaccination program was implemented.
"If you really think in good faith that you are doing the right thing, nobody can question you except your conscience," the President said.
Aquino to attend Senate probe
On Tuesday night, Aquino said he would face the Senate investigation into the dengue vaccination program implemented during his term.
"We want to participate in telling the truth to the people, as we have always done; at the same time, observing compliance to various laws, rules and traditions," Aquino said Tuesday night.
Asked whether this means he would attend the probe, Aquino said, "Yes."
"I hope that my appearing will promote a more sober discussion leading to the formulation of appropriate actions," he said.
The Senate Blue Ribbon and health committees sent Aquino an invitation to appear at today's hearing on the use of Sanofi Pasteur's Dengvaxia to immunize tens of thousands of children aged nine and above to protect them from dengue.
The former president received the invitation at around 4 p.m. on Tuesday.
Sanofi exec sorry
An official of Sanofi today apologized before members of the House of Representatives' health committee for issuing a global advisory that caused confusion on the efficacy of Dengvaxia.
Thomas Trioumphe, Sanofi vice president for Asia Pacific, apologized before committee chairman Rep. Johnny Pimentel for his firm's inability to explain the alleged "severe" effects of Dengvaxia.
"I do apologize if there was confusion. I'm sorry if it created confusion, but there is no need to panic. There is no need for public scare," Trioumphe said, replying to Sagip party-list Rep. Rodante Marcoleta's demand for him to apologize.
Triomphe likewise assured the House of Representatives and the public that its Dengvaxia vaccine is "safe and effective."
The France-based pharmaceutical company affirmed that it followed regulatory procedures when it entered into an agreement with the Department of Health (DOH) to supply the agency with Dengvaxia, Sanofi communications consultant Richard Rivera said.
Sanofi claimed that Dengvaxia remains the only effective anti-dengue vaccine in existence in the world, a product of 20 years of research.
The vaccine is effective in the prevention of dengue in endemic countries such as the Philippines, where 9 out of 10 Filipinos are exposed to the dengue virus, Sanofi said.
As part of its responsibility as a manufacturer, Sanofi said it is continuously working with the government in surveillance and monitoring of those administered Dengvaxia in the DOH's vaccination program.
Experts push for immunization
Lulu Bravo, Philippine Foundation for Vaccination executive director, said the government's dengue and other immunization programs are essential to save millions of children from infectious diseases and possible death.
"If we will scare people with alleged side effects of vaccines and these things get out of hand, we will all be losers. Many children will suffer from vaccine preventable diseases, get hospitalized and even die," Bravo warned.
Bravo said there are other ways to prevent dengue, but vaccination is still the single most cost-effective means to stop the spread of the mosquito-borne illness in the country.
"Singapore has a good vector control program, but they still have dengue cases because (they) cannot control all mosquitoes. That is why vaccination is the most cost effective way to prevent dengue," she said.
Bravo said experts conducted more than 20 years of study and clinical trials before Dengvaxia was introduced and given the license for commercial use in the country.
"There is no vaccine that is 100 percent effective. All have side effects. In fact, the measles vaccine has more serious side effects than the dengue vaccine," she pointed out.
Bravo said the "side effects" of any new vaccine should not be reason to discourage people and the government from trying it.
'Garin stopped trials'
Pampanga-based Preferred and Proven Therapies Inc. (PPTI) said the DOH was already conducting clinical trials for Artemisia Combination Therapy (ActRx TriAct), a dengue fever treatment, under former DOH secretary Enrique Ona.
PPTI president and chief executive officer Hexilon Alvarez said the drug was approved by the US Food and Drug Administration (FDA) and Federal Department of Health and Human Services-Institutional Review Board, which issued a certification in February 2012 allowing clinical trials.
Alvarez questioned why Garin stopped the trial when she replaced Ona and assumed the top DOH post.
"The US Department of Health and Human Services and FDA would not have issued the approval of the protocol to conduct testing on humans unless they were not sufficiently convinced of the safety and toxicity of the products and proceed with determining actual efficacy in a large group of humans," he told reporters in Manila.
Alvarez, son of former senator Heherson Alvarez, recalled that Ona spearheaded the trials of ActRx TriAct in several barangays in dengue-infested Palawan then and even extended the trials to six government-run hospitals.
'Fastest procurement in history'
"This is the fastest procurement in DOH history," an irate Oriental Mindoro Rep. Doy Leachon told health officials and executives of Sanofi who attended the joint hearing of the House committees on good government and health.
"If it was indeed very important, then why didn't you include that in the GAA?" he asked repeatedly. "Please, we ask you, don't do this, and please not at the expense of more than 800,000 of our children!"
Leachon – among those who participated in hearings in the past Congress – was also able to get DOH Undersecretary Kenneth Hartigan Go to admit that he used to work from 2001 to 2009 for Zuellig Pharmaceutical, Sanofi's exclusive distributor in the country.
Go likewise admitted having stated that the procurement of Dengvaxia was actually a "political decision of the higher committee" and that it was a "leadership decision" then – but went only as far as Garin. – Mayen Jaymalin, Edu Punay, Delon Porcalla