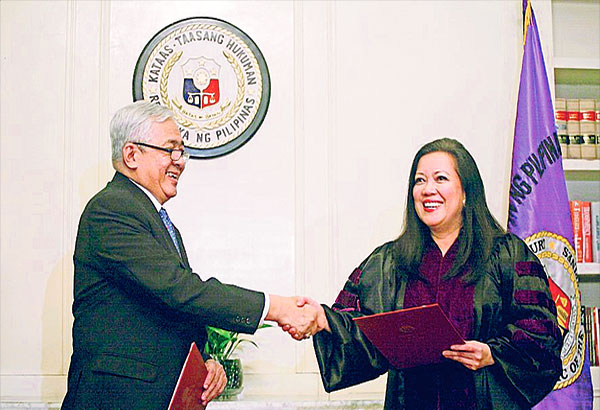 In this 2014 photo, Chief Justice Maria Lourdes Sereno congratulates Solicitor General Francis Jardeleza after he was sworn in as new Supreme Court associate justice. File
Sereno camp: Treason allegation irrelevant to impeachment case
(philstar.com) - December 12, 2017 - 6:20am
MANILA, Philippines — The camp of Chief Justice Maria Lourdes Sereno denied the treason claim by Associate Justice Francis Jardeleza against the chief magistrate, a claim that has nothing to do with impeachment hearings at the House of Representatives.
"That allegation is irrelevant and should not be given weight as it is a different, separate charge not raised in the complaint," lawyer Carlo Cruz, one of Sereno's spokespersons, said Tuesday.
Jardeleza, during the House justice panel hearing on the impeachment complaint against Sereno on Monday, accused the chief justice of "acting disloyally."
The SC justice was a resource speaker on Sereno's alleged manipulation of the Judicial and Bar Council that screens nominees to posts in the judiciary.
Lawyer Larry Gadon, in his verified impeachment complaint, said that Sereno committed culpable violation of the Constitution when she "manipulated the JBC and its shortlists."
Jardeleza recalled that Sereno did not approve of his "diskarte (strategy)" on handling the West Philippine Sea case while solicitor general. He said Sereno raised this among the members of the JBC to block his inclusion in the shortlist of candidates to replace former Associate Justice Roberto Abad.
"I was, to quote her words, disloyal to the republic, disloyalty to the republic, lambasted our motherland. That was a very damning claim," Jardeleza told the panel in mix of English and Filipino.
The chief justice chairs the JBC, which includes the secretary of justice, the chairs of the Senate and House committees on justice, and representatives of retired Supreme Court justices, the academe, the Integrated Bar of the Philippines, and the private sector.
READ: At Sereno impeachment hearing, divisions among justices go on full display
Jardeleza, in his narration, said that it was actually Sereno who betrayed the country for using a "top secret" document to block his appointment to the high court.
Sereno's camp earlier stressed that the chief justice was acting on good faith when she excluded Jardeleza from the shortlist. They also noted that Sereno had given "reasonable grounds to doubt his integrity and moral fitness to become a member of the highest court of the land."
The House of Representatives justice panel will resume determining probable cause on Gadon's impeachment complaint against Sereno.