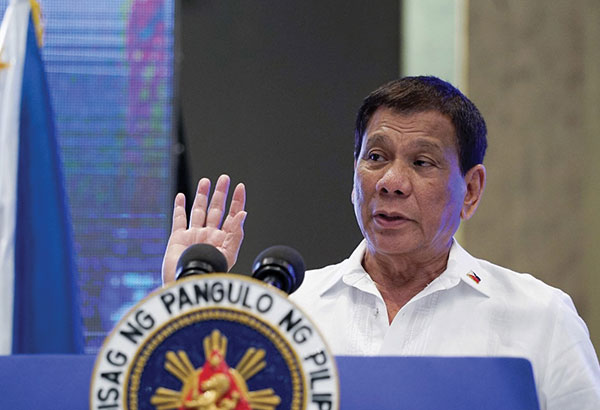 President Rodrigo Roa Duterte, in his speech during the 65th League of Cities of the Philippines (LCP) General Assembly at the Shangri-La at the Fort in Bonifacio Global City (BGC), Taguig City on November 21, 2017, gestures as he reiterates his vow to protect and preserve the Filipinos. King Rodriguez/Presidential Photo/Released
Duterte: I won't allow cops, soldiers to be jailed
MANILA, Philippines — President Duterte yesterday stressed that he would not allow security personnel performing their duty to go to jail as the Philippine National Police (PNP) faces allegations of extrajudicial killings.
Duterte, who vowed to launch a bloody crackdown on narcotics, claimed that policemen would not kill anyone for no reason at all.
"For those really good in our society, they always had my protection including the police, military. As long as they work, I would never allow them to go to jail just because there was an error of judgment," the President said during an anti-corruption summit in Pasay City.
"What fool would kill someone for no reason at all unless the policeman is drunk?… You fool, why would I allow them to be jailed? I won't allow it even if we quarrel with each other," he added.
Duterte made the remarks after wire agency Reuters reported about the alleged execution of three drug suspects by Manila policemen, but he did not mention the report in his hour-and-a-half-long speech.
Presidential spokesman Harry Roque said authorities are now probing the incident, which was exposed as Duterte was thinking about bringing the police back to the anti-drug campaign.
"I assure you that the authorities are now looking into this matter. We're in the process also of authenticating the video. I assure you that the President will not tolerate any abuses that may be committed by some personnel of the PNP," Roque said in a press briefing at Malacañang.
"We do not tolerate police violence, brutality or killing," he added.
Asked if the Manila incident would be a factor in Duterte's decision to bring the PNP back to the drug war, Roque said, "The problem with that issue is… whatever we say, as long as the President has not decided, the matter remains pending."
"My appeal is to let the President be. I do not know if it will or it will not have an impact but until the President has actually issued anything in writing, let's respect the status quo," he added.
Duterte clarified that his protection for soldiers and policemen only covers the performance of their duty.
"But those with malice, women, something like that, son of a b****. We are the same in that aspect… Solve your own problem," he said.
Duterte suggested the setting up of closed circuit television cameras to monitor raids against criminals.
"You can bring (the Commission on) Human Rights (personnel). If there is a gun battle, put them on the frontline. Fools, that's what you get," he said.
Duterte also chided human rights advocates and United Nations rapporteur Agnes Callamard for their supposed fixation on extrajudicial killings.
"They do not believe that (drug suspects) really fight (with law enforcers)," he said.