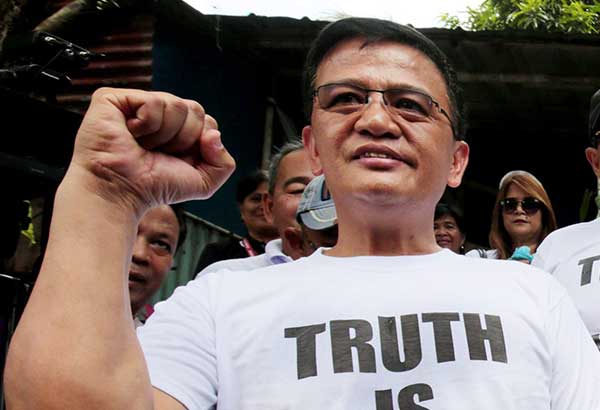 In a resolution released yesterday, the DOJ panel of prosecutors dismissed PDEA's complaint for conspiracy to import illegal drugs and protecting or coddling of drug traffickers under Republic Act 9165 (Comprehensive Dangerous Drugs Act), negligence and tolerance under Article 208 of the Revised Penal Code and corrupt practices of public officers under Section 3 of RA 3019 (Anti-Graft and Corrupt Practices Act) for lack of probable cause. Michael Varcas, File
DOJ clears Faeldon over P6.4-B BOC shabu
Edu Punay
(The Philippine Star) - November 22, 2017 - 4:00pm
MANILA, Philippines — The Department of Justice (DOJ) has cleared former commissioner Nicanor Faeldon and other former officials of the Bureau of Customs (BOC) in the drug and criminal charges filed against them by the Philippine Drug Enforcement Agency (PDEA) over the smuggling of a P6.4-billion shabu shipment last May.
In a resolution released yesterday, the DOJ panel of prosecutors dismissed PDEA's complaint for conspiracy to import illegal drugs and protecting or coddling of drug traffickers under Republic Act 9165 (Comprehensive Dangerous Drugs Act), negligence and tolerance under Article 208 of the Revised Penal Code and corrupt practices of public officers under Section 3 of RA 3019 (Anti-Graft and Corrupt Practices Act) for lack of probable cause.
The DOJ cited as basis in clearing Faeldon the PDEA's "failure to state with clarity the acts or omission supposedly committed by the above-named BOC respondents that would constitute violation of the offense charged."
"Further, the evidence adduced by the PDEA in support of the charges were insufficient to establish probable case. Thus, the Panel is constrained to take into consideration the defense raised by the respondents," the resolution of the panel chaired by Assistant State Prosecutor Aristotle Reyes read.
Apart from Faeldon, also cleared were former Customs Investigation and Intelligence Service chief Neil Anthony Estrella; former director Milo Maestrecampo; intelligence officers Joel Pinawin and Oliver Valiente; Manila International Container Port district collector lawyer Vincent Phillip Maronilla; Faeldon's fiancé, lawyer Jeline Maree Magsuci and BOC employees Alexandra Ventura, Randolph Cabansag, Dennis Maniego, Dennis Cabildo and John Edillor.
The panel also dismissed the charges against Emily Anoche Dee for maintaining a drug den, citing lack of knowledge on the part of Emily that her property being rented would be used as a transshipment point of the subject drugs.
They also cleared the corporate officers of Hong Fei Logistics due to failure of the PDEA to show that these corporate officers knowingly consented to or actively participated in the importation of the subject shipment.
But while the DOJ cleared Faeldon and company, it found probable cause to indict the importers, brokers and other individuals involved in the shipment.
The panel recommended no bail in the drug importation case filed before the Valenzuela regional trial court for violation of Section 4, in relation to Section 26 (a) of Republic Act No. 9165.
Those indicted were Chen Ju Long alias Richard Tan or Richard Chen, Li Guang Feng alias Manny Li, Dong Yi Shen Xi alias Kenneth Dong, Mark Ruben Taguba II, Eirene Mae Tatad, Teejay Marcellana, Chen Min, Jhu Ming Jhun and Chen Rong Huan.?"In finding probable cause against the above-named respondents for the importation of 602 kilograms of shabu, the Panel determined that the combination of the individual participation of each of the respondents, either as shipper, consolidator, facilitator, broker, financier, consignee or warehouse lessee – reveals a pattern of overt acts indicative of conspiracy to import into the country the dangerous drugs," the DOJ explained.
Sen. Francis Pangilinan said DOJ's decision to dismiss the drug raps against Faeldon and other Customs officials is "completely unacceptable and preposterous."
"It is clear with this decision that the government is not serious in its campaign against illegal drugs. This is a sham drug war that kills the poor while turning a blind eye on the rich and political allies," he said in Filipino. – With Marvin Sy