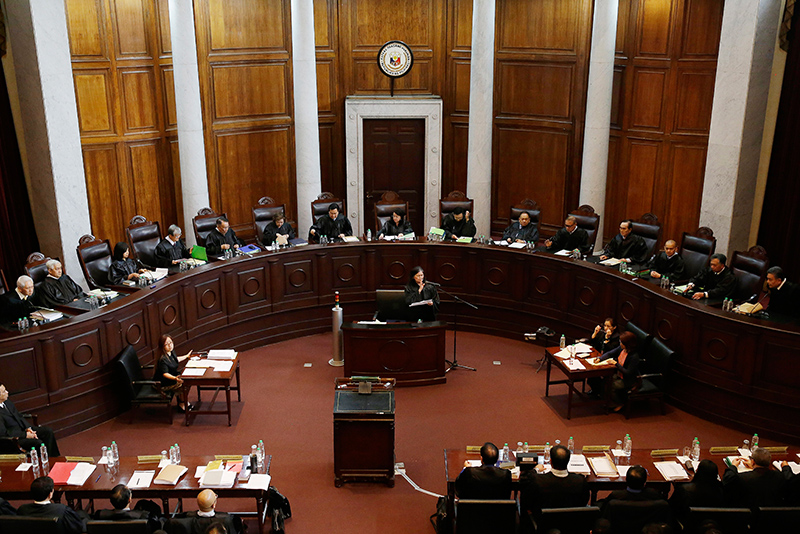 If at least a third of the members of the House of Representatives vote to affirm the justice panel's committee report, Sereno will be impeached. AP/Aaron Favila, File
SC justices, staff and reporter invited to next hearing on Sereno impeachment
(philstar.com) - November 22, 2017 - 9:38am
MANILA, Philippines — Supreme Court justices and employees and a newspaper reporter were invited by the House of Representatives to attend the continuing impeachment proceedings against Chief Justice Maria Lourdes Sereno.
The House Committee on Justice initially agreed to invite Associate Justice Teresita de Castro, whose name appears in the list of witnesses of complainant Larry Gadon.
Gadon, a known vocal supporter of President Rodrigo Duterte, accused Sereno of corruption, violating the Constitution, committing high crimes and betrayal of public trust.
Among the grounds Gadon used in his impeachment complaint is an internal memorandum signed by De Castro flagging several administrative orders signed by Sereno.
In an exclusive interview with ANC's "Headstart" aired on Monday morning, Sereno posed a challenge to her colleague: "The decision she will have to make is how she would want to be remembered, the legacy she wants to leave behind."
"The legacy of encouraging Congress to interfere in internal, administrative matters of the Supreme Court, i.e. destructive of the judicial dependence, or defend judicial independence," Sereno said.
Dinagat Islands Rep. Kaka Bag-ao, however, raised that other justices must also be summoned by the panel to shed light on the alleged altercation of documents during an en banc session.
Cebu Rep. Gwen Garcia said that should all the 15 justices be invited to the House panel, it "borders ridicule and incredulity."
But Oriental Mindoro Rep. Reynaldo Umali said they will send an invite to the justices and the panel "will try to manage this depending on the need of the hearing."
Also expected to attend next week's hearing were SC clerks of court Enriquita Vidal and Felipa Anama.
Questions on Gadon's personal knowledge of allegations
The House panel also summoned Manila Times reporter Jomar Canlas, whose articles were largely cited by Gadon in his complaint.
Lawmakers also grilled Gadon on his personal knowledge on his allegations thrown against the highest magistrate in the land.
Gadon admitted that he has not talked to De Castro personally but had a "middleman" who is Canlas.
Bag-ao raised, in an exasperated voice: "Dapat masasagot mo ang mga tanong kasi ikaw ang complainant. Hindi ko alam kung sino ang complainant dito (You should be able to answer these questions. I am at lost on who is the real complainant here)."
Agusan del Norte Rep. Lawrence Fortun pointed out that Gadon has already admitted that his source of information is Canlas.
Fortun asked: "You're supposed to have filed a verified impeachment complaint? Where the complainant attest to the personal knowledge or existence of authentic documents?"
Siquijor Rep. Ramon Rocamora, meanwhile, raised that Gadon "should have the evidence already when he has those allegations."
Sereno, in a TV interview on Monday, stressed that Gadon as the complainant has the burden to prove his allegations.
Further deliberations
Umali said they would tackle Gadon's complaint alleging that Sereno committed four acts which were grounds for impeachment.
On November 27-29, the panel would tackle the accusations of culpable violation of the Constitution and corruption.
Meanwhile, they would discuss on December 4-6 Gadon's allegations that Sereno committed high crimes and betrayal of public trust.
Last October 5, the House panel voted 25-2 and deemed that Gadon's complaint has sufficient grounds to impeach Sereno.
READ: House panel excludes non-members from Sereno hearings
Members of the House would vote in plenary on whether to approve or reject the justice committee's report on December 13.
If at least a third of the members of the House—98 of 292 members—vote to approve the committee report, this will then constitute the Articles of Impeachment. The Articles of Impeachment will be transmitted to the Senate, which will try the case as an impeachment court.
Earlier in the hearing, the panel voted 30-4 to junk the appeal of Sereno asking that her lawyers be allowed to do the cross-examination of witnesses on her behalf.
After the voting, her team of eleven lawyers left the hall.