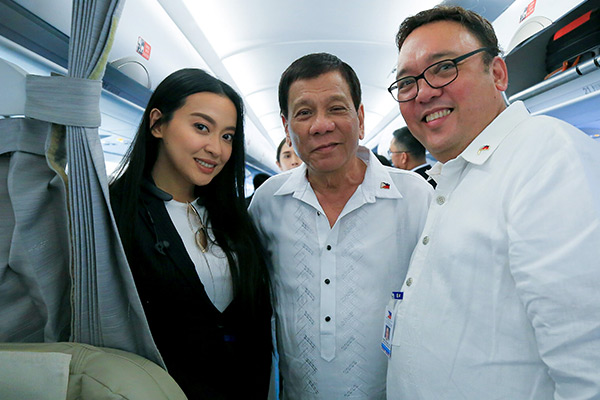 President Rodrigo Duterte poses for a photo with Presidential Communications Assistant Secretary Margaux "Mocha" Uson and Presidential spokesperson Harry Roque while on board the Philippine Airlines chartered flight prior to their departure for Vietnam on Nov. 8, 2017. Albert Alcain/Presidential Photo, File
Mocha, Roque not interested in seeking Senate posts
Uson: I may run if Duterte wants
MANILA, Philippines — Two staunch supporters of President Rodrigo Duterte named to be possible candidates of PDP-Laban on Friday clarified that they were not interested in seeking Senate seats in 2019 elections.
Presidential Communications Undersecretary Mocha Uson and presidential spokesperson Harry Roque issued separate statements after House Speaker Pantaleon Alvarez named them as individuals being eyed by the ruling party for its senatorial slate.
In a statement released on her Facebook page, she clarified that she did not have plans to run although she would consider it if Duterte convinces her to seek a senatorial post.
"I am thankful and flattered for being considered as a possible candidate, but I currently don't have plans on running," she said.
"If ever I run, this will be because President Duterte himself wants me to run. That is because my only intention is to help the Duterte administration serve the nation," added Uson, whose blog is followed by millions of Filipinos.
READ: Pimentel bares six potential PDP-Laban senatorial bets
Roque meanwhile thanked Alvarez for the confidence the House leader showed to him by listing him as a possible senatorial bet.
He however stressed that he was focused on his job as presidential spokesperson, and his priority was to do his "absolute best" in communicating Duterte's message to the public.
"I am also without means to pursue a Senate bid. While I am thankful, I reiterate that my priority is to be the best spokesman that I can be," the presidential spokesperson said.
READ: PDP-Laban shutting doors to new members to prepare for 2019
Aside from the two Palace officials, Alvarez also named Rep. Karlo Nograles (Davao City), Rep. Alfredo Abelardo Benitez (Negros Occidental), Rep. Geraldine Roman (Bataan) and former Metropolitan Manila Development Authority Chairman Francis Tolentino as possible candidates of PDP-Laban.
Uson is a staunch defender of Duterte and has been accused in the past of spreading spurious information among her followers.
She denies this charge and has insisted that she has tried to correct any inaccurate information she may have published.
Roque on the other hand is a human rights lawyer who has handled sensational cases in the past. He was reported to be eying a Senate post during the 2016 elections but decided to seek a House seat instead as a nominee of Kabayan Party-list.
READ: Alvarez wants PDP-Laban to fill administration Senate slate
Uson maintained that she had always made it clear to Alvarez that she did not have plans to run for the Senate after the speaker extended an invitation to her.
She said that she was attending the oath-taking of new PDP-Laban members upon the invitation of presidential assistant for the Visayas Michael Dino. It was in this oath-taking where the speaker bared the list.
"This was the reason why I was surprised when he made the announcement that I was running for the Senate. I did not know this, and we did not talk about this," Uson said in Filipino.
Senate President Aquilino Pimentel III, who was not mentioned by the speaker, meanwhile said that Alvarez may have forgotten him or may have assumed that he was already a given on their list of candidates.
He said that the final line-up of candidates would be announced in one or two months before the deadline of the filing of the certificates of candidacy.
"In the meantime all lists are preliminary," he added.
Pimentel said that the names floated by the speaker were good and would become a mix of old and new faces once the Senate chief joined them.
The Senate president stressed that what was important was for the PDP-Laban ideology to be brought to the chamber's priority measures especially federalism.
"In the meantime, let us consider the names announced by the speaker as his nominees," he said, adding that the party should expect some of those names to confirm their candidature considering that they have a strong backer in the ruling party.
The Senate chief also underscored the need for the entire party membership, including the chief executive himself, to be involved in the selection process.