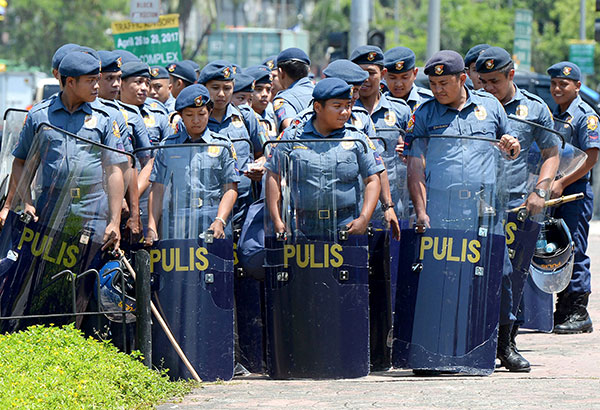 A task group has been formed to implement security plans during the ASEAN Summit in Clark Field, Pampanga. AFP/File
15-day gun ban imposed for ASEAN summit
MANILA, Philippines — The Philippine National Police (PNP) will impose a 15-day gun ban in Metro Manila and Central Luzon starting on All Saints' Day up to the Association of Southeast Asian Nations (ASEAN) summit next month.?
PNP chief Director General Ronald dela Rosa has approved the recommendation of National Capital Regional Police Office (NCRPO) chief Director Oscar Albayalde to suspend the permit to carry firearms outside residence (PTCFOR) from Nov. 1 to 15.?
With the suspension of PTCFORs, no one is allowed to bring his or her firearm outside the house.?
Aside from Metro Manila, the suspension of PTCFORs covers the provinces of Aurora, Bulacan, Bataan, Pampanga, Tarlac, Nueva Ecija and Zambales, all in Central Luzon.?
Albayalde said the gun ban in selected areas would strengthen the security measures being implemented by the PNP for All Saints' Day and the ASEAN Summit and prevent untoward incidents.?
He said authorities are monitoring reports of recruitment by militant groups for protest actions during the ASEAN.
Albayalde, however, gave assurance that authorities have not monitored any specific threats during the holidays.
A task group has been formed to implement security plans during the ASEAN Summit in Clark Field, Pampanga.
Interior and Local Government officer-in-charge Catalino Cuy said over 9,300 security personnel have been tapped for Task Group Clark.
"With enough number of security troops deployed, I am very confident that TG Clark will be able to carry out our security plan and counter-measures," Cuy said.?
Cuy said TG Clark personnel have been prepositioned to their respective posts and are up to the task of ensuring the security of the international event.?
TG Clark is composed of police officers, soldiers and other security forces who will ensure the safety and security of around 200 ASEAN delegates attending the four-day event.
"Being the host country, our topmost concern is the safety and security of our ASEAN delegates. Hence, we are committed to make their short stay in the country as peaceful and safe as possible," Cuy said.
Cuy also appealed to the motoring public to take other routes and refrain from passing through the North Luzon Expressway (NLEX) and EDSA during the summit days.
Malacañang had declared Nov. 13-14 as non-working days in Pampanga, Bulacan and the National Capital Region in relation to the ASEAN events being hosted by the Philippines. – With Ding Cervantes