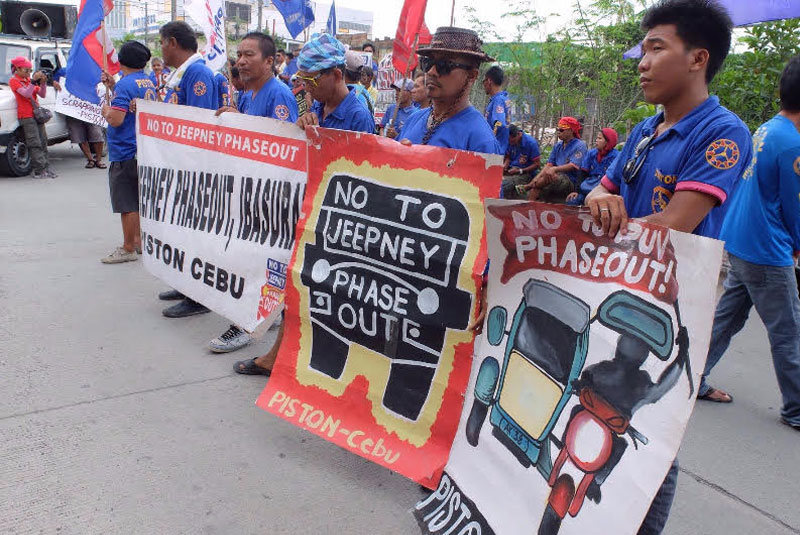 Some major transport groups denied that they support the transport strike which would be staged by the Pinagkaisang Samahan ng mga Tsuper at Operator Nationwide on Monday and Tuesday. File photo
Major transport groups to skip 2-day strike slated next week
MANILA, Philippines — A number of transport groups on Wednesday announced that they are not joining the planned two-day transport strike on October 16 and 17 (Monday and Tuesday) next week.
Among the transport groups who reportedly announced that they are not joining the jeepney strike are the Federation of Jeepney Operators and Drivers Association of the Philippines (FEJODAP), Alliance of Concerned Transport Organizations (ACTO), Liga ng Transportasyon at Operators sa Pilipinas (LTOP), Alliance of Transport Operators and Drivers Association of the Philippines (ALTODAP) and Pangkalahatang Sanggunian Manila and Suburbs Drivers Association (PASANG MASDA).
The groups denied that they support the transport strike which would be staged by the Pinagkaisang Samahan ng mga Tsuper at Operator Nationwide (PISTON) to protest the government's plan to phase out jeepneys aged 15 years and older. They said they are opposing the plan to the public transportation nationwide.
READ: Why some transport groups oppose jeepney phaseout
"We will not be joining the transport strike," ACTO President Efren de Luna said in a press conference.
"The PUV Modernization only wants to ensure the security of passengers and to have an environmentally sustainable mode of transportation," he added.
LTOP President Orlando Marquez called on their fellow jeepney coalitions "to support the government in modernizing the public transportation system in the country."
LTFRB board member and spokesperson Aileen Lizada earlier said appealed their call for modernization is for the benefit of the riding public. She also assured the operators that they would be given a P80,000 subsidy to shoulder the modernization of the public utility jeepneys and that their mode of transport would not be phased out.
Last September 25 and 26, transport group, Stop and Go Coalition also staged a two-day transport strike to protest the government's call for modernization.
The Stop and Go coalition would also join the scheduled two-day strike.
In a radio interview, the coalition's president Jun Magno clarified do not intent to paralyze the public transportation. He still called on the local government and academic institutions to suspend the classes amid their plan to hold a transport strike.
"Kung ganun pala bakit pa kami nag-aanunsyo? (If so, why did we even announce the transport strike?) Magno said in an interview with dzRH last Monday.
"Gusto lang namin na kausapin nila kami kasi anti-poor talaga yung programa ng gobyerno (We just want the government to talk to us because their program is anti-poor,) he added.