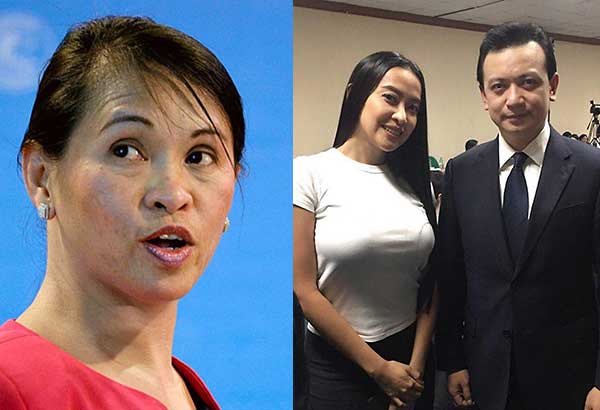 PCOO Assistant Secretary Mocha Uson poses with Sen. Antonio Trillanes IV during a Senate hearing on fake news yesterday. (left) photo shows former Anti-Money Laundering Council executive director Julia Bacay-Abad, whom President Duterte accused of being the senator's 'kulasisi' or mistress and source of documents.
'Trillanes half a man, womanizer'
(The Philippine Star) - October 4, 2017 - 4:00pm
MANILA, Philippines — President Duterte yesterday hit back at Sen. Antonio Trillanes IV, accusing the lawmaker of having an affair with former Anti-Money Laundering Council (AMLC) executive director Julia Bacay-Abad.
The President also belittled the senator's manhood and challenged him to a gun duel.
"Balita ko isa lang 'yang b**** mo. Congenital. Kayabang mo. Maglaban kaya sa akin ng barilan? Ay sus. Ipagyabang mo 'yang bunganga mo (I heard you have only one testicle. You're a braggart. Why don't you fight me in a gun duel? You can brag about your mouth)," he said.
He said Trillanes started his black propaganda during the campaign last year in a bid to derail his presidential bid – "but to no avail."
"Ayan, patay na. Magkakaso-kaso sila ngayon (Now it's dead. They will have many charges now)," he added.
Duterte said Trillanes got information from Abad, the same purported bank details given by the senator to Deputy Ombudsman Rodolfo Elman and Overall Deputy Ombudsman Melchor Carandang, who were tasked to probe the bank deposits of Duterte and his family.
"You cannot use it as evidence in court because ninakaw ninyo 'yan ni Abad (you and Abad stole it). Binigay niya kay Trillanes, binigay ni Trillanes kay Elman, the Ombudsman for Mindanao because I'm a resident there in Mindanao (She gave the documents to Trillanes, Trillanes gave it to Elman), then gave it to Morales. Tapos naghuhugas na ng kamay sila ngayon pati si Elman (Now they are washing their hands, including Elman)," he said.
"Carandang has a resolution in my case. It is attached on the record. It was ignored," he added.
Duterte went a bit further, accusing Trillanes of having an affair with Abad.
"She is the mistress of Trillanes," he said, adding that he could not allow the senator to ruin the country and his presidency.
"It's Trillanes who will bring this government or this country down to the dogs. Nanguna ang g***. Patapang-tapangan. Sabi niya, 'O…' Kaya unahin ko nga siya. P***** i** (He's leading in being brave so I will take him first)," Duterte said.
Impeach them
In a hastily called press conference, Duterte virtually gave the go-ahead to his allies at the House of Representatives to proceed with the impeachment cases against Ombudsman Conchita Carpio-Morales and Chief Justice Maria Lourdes Sereno.
Duterte made the statement after Morales maintained that she would not abandon her constitutional duty to investigate irregularities in the government, including the President. He accused Morales of conspiring with political forces to remove him from office.
"We will file an impeachment case against her and I would tend to believe that she was part of the conspiracy, on the fabricated papers," he said, referring to the bank documents purportedly used by Trillanes in his graft complaint against him.
"I said, in the end, to their sorrow, they would discover that there's no such thing as that amount."
Duterte said he is ready to present before Congress to dispute the claims but Sereno and Morales should also go with him.
The President also denied knowing Daniel "Snooky" Cruz, his alleged source of information on Trillanes' supposed offshore bank accounts, saying the only Snooky he knows are the actress and the comic strip character.
The President was referring to actress Snooky Serna and Snoopy, the beagle in the comic strip "Peanuts."
He also denied spending huge sums to get information about Trillanes' bank accounts.
"I will not spend a single centavo for him. He is not worth even one peso to me," Duterte said.