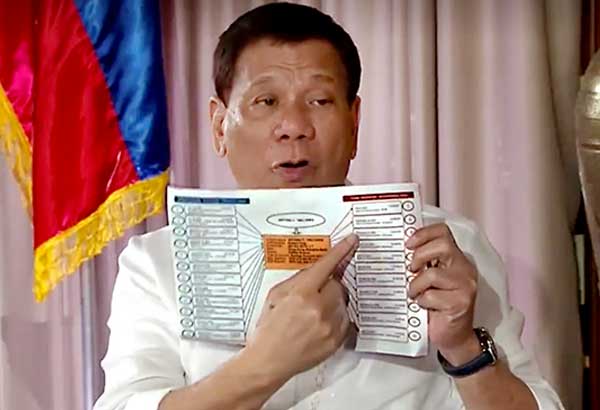 President Duterte reveals details on Sen. Antonio Trillanes IV's alleged offshore accounts yesterday, including the names of his co-depositors such as 'Robert Fong.'
Rody bares Trillanes offshore accounts
MANILA, Philippines — This time, the bank account details are real.
President Duterte has bared what he said were the real offshore bank accounts of Sen. Antonio Trillanes IV.
In a television interview taped the other day and aired last night, the President said Trillanes received funds from sources abroad, which were being used apparently to destabilize his administration.
Duterte also cited an intelligence report revealing that Trillanes closed his DBS account at the Alexandra branch in Singapore on the eve of the senator's departure with some members of the media last Sept. 19 to deny the existence of the accounts.
"Based on the analysis, the funds being laundered by Sen. Trillanes and his group may not be for their personal use but rather it's being used for their cause, and possibly to destabilize government," Duterte said in a taped interview aired over PTV 4 last night.
Showing a diagram of the purported bank accounts, Duterte said he got the information from another country that compiled details about the senator's alleged money-laundering activities.
"Here is the screenshot of the DBS-Alexandria account…termination of Trillanes and where he sent the funds. He terminated it online on Sept. 8, 2017 past 10 p.m and left for Singapore after that…" Duterte said.
The DBS account had some 200,000 but the chief executive did not mention what currency.
Duterte did not identify the country which provided him Trillanes' bank details, but claimed it has been vigilant against money laundering activities abroad. "I cannot say what country," he said.
Based on the diagram, the Trillanes account received amounts from individuals with Chinese-sounding names through fund transfers noted in many instances last year.
Among the names included in the monitoring sheet were Patrick Go, John Gomez and Roberto Wong.
"These people are from outside," Duterte said.
When Trillanes closed his account, Duterte revealed there were also fund transfers to an account under the name of "Juan Antonio F. Trillanes."
"Fund transfer withdrawal of $40,000 went to Juan Antonio F. Trillanes," he added.