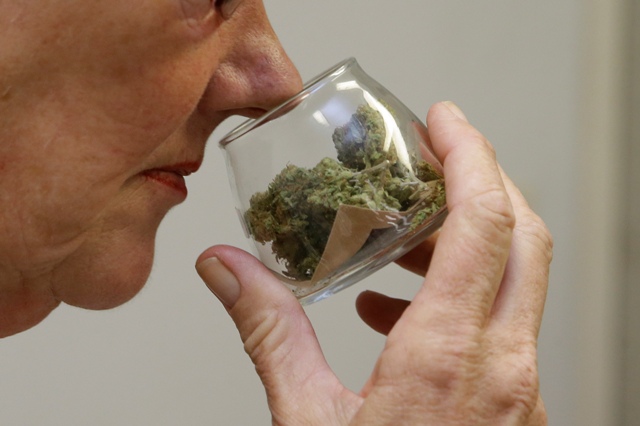 The committee on health chaired by Quezon Rep. Angelina Tan approved the bill authored by Isabela Rep. Rodolfo Albano III. AP/Rich Pedroncelli, File
House panel endorses medical marijuana bill
Jess Diaz
(The Philippine Star) - September 26, 2017 - 4:00pm
MANILA, Philippines — The House of Representatives committee on health yesterday endorsed a bill allowing the use of cannabis or marijuana for medicinal purposes.
However, the use of marijuana for recreational purposes would continue to be prohibited.
The committee on health chaired by Quezon Rep. Angelina Tan approved the bill authored by Isabela Rep. Rodolfo Albano III.
Encouraged by the passage of his measure at the committee level, Albano said he is hoping the House and eventually the Senate would approve it.
"I have high hopes under the Duterte administration that this bill would be enacted into law. Finally, there is hope for our people, especially our children, who suffer from medical conditions like epilepsy, cancer and multiple sclerosis," he said.
"Unlike many medical professionals, President Duterte has an open mind on medical cannabis," he said.
Albano recalled that shortly after winning the presidency in May last year, Duterte said he was not opposed to the legalization of marijuana for medicinal purposes but he was against its use for recreation.
"Medical marijuana, yes, because it is really an ingredient of modern medicine now. There are medicine right now being developed or already in the market that (have) marijuana as a component… used for medical purposes," the then president-elect said.
"If you just smoke it like a cigarette, I will not allow it, ever. It remains to be a prohibited item and there's always a threat of being arrested. If you choose to fight the law enforcement agency, you die," he said.
Marijuana is among prohibited substances under the Dangerous Drugs Act.
Albano said cannabis "has been confirmed to have beneficial and therapeutic uses to treat chronic or debilitating diseases or medical conditions."
These include cachexia or wasting syndrome; severe and chronic pain; severe nausea; seizures, including but not limited to those characteristic of epilepsy; and severe and persistent muscle spasms, including but not limited to those associated with multiple sclerosis, he said.
Under his proposal, he said the use of medical marijuana would be allowed under strict regulations to be issued by the Department of Health and the Food and Drug Administration.
He challenged critics of medical marijuana to "shed your fear of the unknown and open your minds to its potential benefits to patients with debilitating ailments who need it."
"Marijuana, even in its raw form, is not harmful, unlike tobacco and liquor," he said.
Doctors supporting the Albano bill have told the House that at least 23 states in America allow marijuana for medicinal use.
They said there is no single death in the United States attributed directly to the use of marijuana, unlike smoking and drinking.