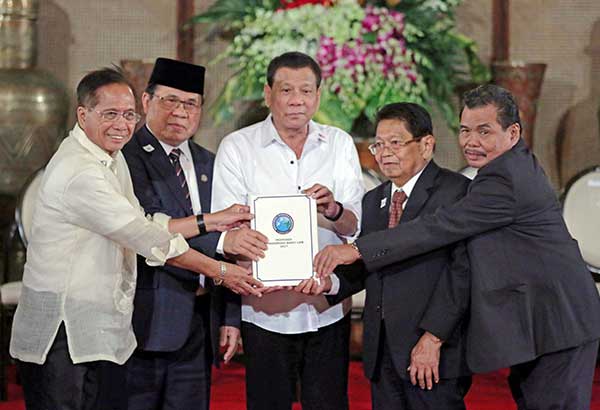 President Duterte holds the draft of the Bangsamoro Basic Law during a turnover ceremony at Malacañang on May 17. File photo
Palace expects 'good progress' this year on passage of BBL
(philstar.com) - September 26, 2017 - 9:25am
MANILA, Philippines – Malacañang is optimistic that "good progress" within this year will lead to Congress' approval of the new Bangsamoro Basic Law, the measure seeking to create a new Bangsamoro political entity in strife-torn Mindanao with greater economic and political powers.
In a press briefing in Malacañang on Tuesday, Presidential Legislative Liaison Office Secretary Adelino Sitoy said the Palace expects the BBL to be passed on second or third reading before the year ends.
"If there is some delay but I think a good progress can be had before the year ends," Sitoy said.
Asked who will sponsor the BBL in both chambers of Congress, Sitoy said Malacañang expects Senate President Aquilino "Koko" Pimentel III and House Speaker Pantaleon Alvarez to author the measure "unless they opt to find another author."
READ: LEDAC to convene today to tackle BBL, other measures
The previous BBL was bypassed by the 16th Congress in the wake of claims that some of its provisions were unconstitutional. The measure was effectively derailed by the deadly Mamasapano clash, which left 44 police commandos dead in 2015.
President Rodrigo Duterte, who hails from Mindanao, earlier assured the Moro Islamic Liberation Front (MILF) that the BBL remains a priority of his administration and has vowed to meet with congressional leaders to fast-track its passage.
Last week, House Majority Leader Rodolfo Fariñas said the BBL is set to enter the legislative mill this week, adding that the president told lawmakers in a high-level meeting on Sept. 21 that it is up to them to decide on the final version of the bill.
In a forum in Manila last July, the government and the MILF committed to a joint communications plan to help gather support for the BBL. Under the plan, July to December of this year will be for creating public opinion to push lawmakers to pass the BBL, with Duterte seen signing it into law.
READ: Experts worry Marawi siege can negatively affect new BBL
According to MILF chief peace negotiator Mohagher Iqbal, "20-30 percent" of the bill that Duterte's predecessor failed to pass has been revised, adding that other Muslim groups participated in the crafting of the bill.