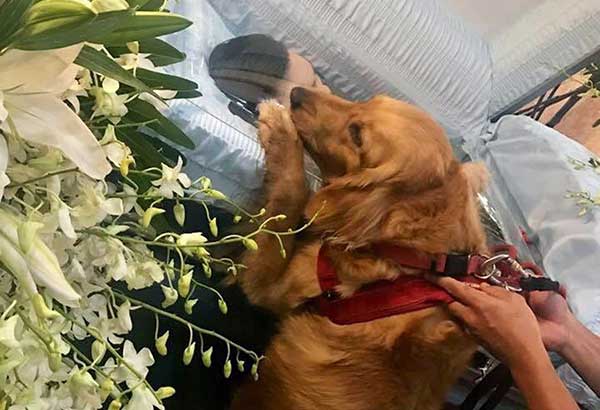 Photo posted on Facebook by Horacio Castillo's uncle shows the UST law student's Golden Retriever beside his coffin at the Santuario de San Antonio in Forbes Park, Makati.
Uncle's post on Atio moves netizens
MANILA, Philippines — A Facebook photo of a Golden Retriever looking at the lifeless Horacio "Atio" Castillo III lying in a casket has moved thousands of netizens.
Atio's uncle Gerardo Castillo posted the photo of the slain student's pet Lega. The photo was taken at Atio's wake at the Santuario de San Antonio in Makati.
"My dearest Atio, Lega misses you so bad that she wants to kiss you but she cannot comprehend why you are no longer with her," Gerardo said in his Facebook post.
"I see Lega and it seems she sees you still and really cries at night. Do you know Atio she goes to your room and wonders why you have not come home yet but I know she knows something must have gone wrong," his post read.
"I love you Atio and same with Lega," he said.
Gerardo's friends and relatives expressed their condolences in the comment section.
As of yesterday afternoon, Gerardo's post got more than 18,700 sad reactions; 7,400 likes and 1,000 hearts or loves. It was shared more than 7,200 times.
Atio's father and namesake said Lega was very close to his son, as if it were his own pet.
He said the dog became uneasy and lonely a few days after Atio's death.
"Kahapon, narinig ko 'yun, out of the blue, umiiyak siya (Yesterday I heard her cry). For no reason, biglang umiiyak siya pero hindi naman siya ganiyan before (she would cry suddenly, but she wasn't like that before)," he said.
"Till we meet again. Say hello for me to lolo and tell your grandfather how I miss him terribly still and no words can describe such feeling," Atio's father said, addressing his son.