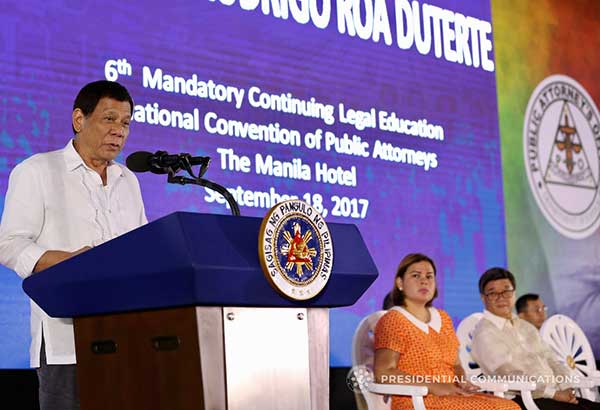 President Duterte gave the order during the opening of the 6th Mandatory Continuing Legal Education-Accredited National Convention of Public Attorneys at the Manila Hotel on Monday night. PRESIDENTIAL PHOTO/RICHARD MADELO
Rody orders ban on street drinking
MANILA, Philippines — In the interest of peace and order, President Duterte has ordered all local government and police officials to arrest and detain those who drink in the streets.
Duterte gave the order during the opening of the 6th Mandatory Continuing Legal Education-Accredited National Convention of Public Attorneys at the Manila Hotel on Monday night.
He said drunkards always become boisterous, which often results in fistfights that disturb and scare citizens.
"Look around, if they loiter around, I told the cops, to pick them up. I do not want anybody standing there, mag-tambay (loiter)," he said.
"Kaya sabi ko 'pag mag-inuman in public place, arestuhin mo (So I said, if they drink in public place, arrest them). You're not supposed to be drinking, using the streets and alleys. Arrest them and jail them. Anyway, there is a Public Attorney's Office who can help in their release the next day.
"Ang mga tao kasi takot eh. Takot na magdaan… Ang mga biktima nito, hindi ito iyong mga elitistang, p*****ina mga ito (The people get scared. They are afraid to pass… the victims here are not the elitist, those sons of b*****)," he added.
When Duterte was mayor of Davao City, he ordered a ban on drinking in public areas, which became an effective strategy to maintain peace and order.
No letup vs drugs
During the ceremony, Duterte reiterated that there will be no letup in the war against drugs despite the outrage over the spate of killings of minors.
"We are a narco-state. My God, you better believe me, you ask the people even in your own barangays. We are all lawyers," he said.
"I cannot stomach this. Do not destroy my country. That's a legitimate… determine if I have committed any wrong for saying that. Do not destroy my country because I will kill you," he added.
Duterte also challenged public lawyers to cite to him a special law that will make him legally accountable for asking drug syndicates to not destroy the youth because they are the country's wealth.
"Hanapan daw ninyo ako ng mali. Itong mga human rights, sige threaten, threaten, eh 'di mag-file kayo ng kaso eh (Find a fault with me. These human rights advocates, they threaten, threaten, then go and file a case)," he said.
"If I fail to finish it (drug problem), I told the military and the police, I don't know if the next president would be able to hack it," he added.
Check and balance
Duterte also appealed to the public lawyers to intensify their partnership with the people, especially the marginalized sector, to stop the drug menace because he considers public lawyers as the government's partners in the war against drugs.
By protecting the rights of the arrested suspects, the PAO complements the government's drive against criminality by ensuring that police operations are aboveboard and individual rights are not violated.
"I hate oppression. I really hate oppression," he said.
"This is why I ask you to strengthen your resolve as we address the overwhelming demand for legal services from the marginalized sectors of society. Your services become more crucial at this time when we pursue our campaign against illegal drugs and criminality.
"Indeed, your dedication to provide quality legal assistance to indigent suspects in this past year has resulted in an impressive 76 (percent) win rate for cases handled by PAO. Ang galing ng utak ninyo (you are brilliant)," he added.