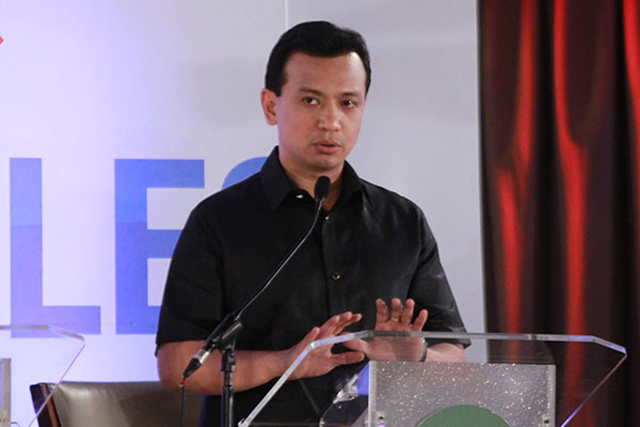 Duterte revealed on Friday the details of Trillanes' supposed foreign deposits, which were not recorded in his 2016 statement of assets, liabilities and net worth (SALN). File
Rody gives details about alleged Trillanes wealth
MANILA, Philippines — Sen. Antonio Trillanes IV started accumulating unexplained wealth during the past administration when he back-channeled talks with China at the height of the dispute over the West Philippine Sea, President Duterte said.
Duterte revealed on Friday the details of Trillanes' supposed foreign deposits, which were not recorded in his 2016 statement of assets, liabilities and net worth (SALN).
The President said Trillanes' bank account number 927519921320 in Zurich has a balance of $75,000 or P3,801,385.05.
He added Trillanes' DBS account number 178000296012 in Singapore has a balance of "193,000," without saying whether it is in US dollars or another foreign currency.
"A closer look at his bank account documents in Zurich and Singapore reveals the name
Antonio F. Trillanes," Duterte said.
Duterte said in a TV interview that Trillanes started making cash deposits while he was going back and forth to Beijing when he was designated as back-channel negotiator during the Aquino administration.
"He was going back and forth about eight or nine times to China, then that's when he started accumulating money. But that was the time that we lost Scarborough Shoal," he said.
Duterte said he got wind of a report from "another country" which revealed that Trillanes maintained several accounts in Shanghai, Zurich, Geneva and Singapore.
Duterte bared Trillanes has online savings accounts with ANZ Bank and ABN. AMRO, Shanghai.
"All foreign accounts of Trillanes are plugged as having international transactions," he added.
Aside from the accounts in Asia and Switzerland, Trillanes has four savings accounts in the Cayman Islands, which were opened online.
The senator also has four accounts in the British Virgin Islands, he said.
"Balances of these accounts are below 700, whereby most of the accounts are within the US$100,000 to 300,000 range to avoid detection in terms of large amounts of money," Duterte said.
Duterte claimed Trillanes carefully stashed his money abroad to avoid legal complexities.
In his 2016 SALN, Trillanes only recorded a net worth of P6.5 million, up from the previous year's P5.98 million. His assets included four properties, cash and other personal properties amounting to P16 million.
However, he recorded a total of P9.5 million in liabilities consisting of various loans.
Duterte doubted the sincerity of the senator in issuing a bank waiver, having noted he only signed "Antonio Trillanes" with no suffixes, on the possibility that there are many people who bore the same name.
"That's his style. Did it occur to you, a strange thing -- does he have a peso bank account?
I mean, for a senator and a family man he is, until now – wonder why he did not mention a single bank account," he said.
Duterte said Trillanes merely issued a general waiver.
"The secret is the money. His money spread all throughout this planet. And there are banks having his name and a partner. So even if he waives everything there, he has his Chinese co-partner for every bank. And if that partner would not sign a waiver then you cannot open the account," he said.
Duterte said he got information Trillanes has closed his Zurich bank account and Singapore bank account, since all of these accounts are single accounts without a co-depositor.
Sources told The STAR that Trillanes has invited some select members of the media to go with him to Singapore in a bid to discredit the President's claim of his accounts there.
But Duterte has apparently preempted Trillanes, saying he has documents to prove that the accounts existed.
Duterte's exposé came weeks after Trillanes accused his son Vice Mayor Paolo Duterte and son-in-law Manases Carpio, of being involved in the alleged drug smuggling at the Bureau of Customs.
The Duterte camp vehemently denied the senator's allegations, while the Chief Executive vowed to "destroy the senator before he destroys me."
Duterte said Trillanes' waiver is useless.
"Check on this name because the senator's complete name is Antonio Fuentes Trillanes. When forced (to) the wall, the senator says the bank accounts belong to many Antonio Trillanes. The third, the second and Antonio Trillanes Junior," he said.
He said the senator could easily disown any account under his name in that style.
"Maybe this is the reason why he is willing to sign a bank waiver. Because no four or number four in the name of Antonio Trillanes. But the date of birth and account owner has been confirmed," Duterte said.