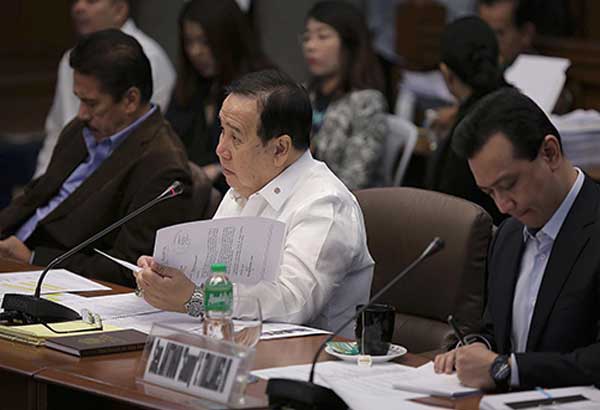 In a privilege speech, Trillanes vowed to expose Gordon's alleged involvement in corruption as head of the Philippine Red Cross. Gordon said he could be accused of graft but requested the Senate to spare the Red Cross from controversy. Senate PRIB/Alexis Nuevaespaña, File
Gordon, Trillanes swap accusations
Paolo Romero
(The Philippine Star) - September 5, 2017 - 4:00pm
MANILA, Philippines — Senators Richard Gordon and Antonio Trillanes IV tangled anew yesterday, although the verbal exchange was less heated this time.
In a privilege speech, Trillanes vowed to expose Gordon's alleged involvement in corruption as head of the Philippine Red Cross. Gordon said he could be accused of graft but requested the Senate to spare the Red Cross from controversy.
He said he was heeding his mother's advice not to tangle with pigs because he could get muddied like the animal.
Trillanes delivered the speech to defend himself from the ethics complaint filed against him the other day by Gordon.
In the 23-page complaint, Gordon noted that Trillanes has a pattern of unbecoming conduct and insulting persons and institutions, including staging failed coups and endangering the country's sovereignty in the South China Sea, which made him unfit to be in the Senate.
The two had a heated argument last Thursday during the Senate Blue Ribbon committee hearing on the smuggling of P6.4 billion worth of methamphetamine hydrochloride or shabu through the Bureau of Customs (BOC) last May.
Trillanes accused members of the committee, chaired by Gordon, of "lawyering" for some members of President Duterte's family, particularly his son, Davao City Vice Mayor Paolo Duterte, and son-in-law Manases Carpio.
Trillanes claimed the young Duterte and Carpio were leaders of the so-called Davao group that abets smuggling at the BOC.
Gordon asked the ethics panel, chaired by Senate Majority Leader Vicente Sotto III, to impose sanctions on Trillanes for alleged unparliamentary behavior.
Gordon also cited the two coup attempts Trillanes participated in against the Arroyo administration when he was still a Navy officer in 2003 and in 2007, violating his oath as a military officer.
As a senator in 2012, Trillanes violated his oath to defend the Constitution when he acted as a "backroom" negotiator between the Aquino administration and Beijing that led to China cordoning off Panatag Shoal.
Gordon also pointed to the pending ethics complaint filed by justices of the Court of Appeals, whom Trillanes accused of receiving bribes.
Trillanes vowed to file his own complaint against Gordon for "unparliamentary and unethical acts" as a senator.
"I will also expose his corrupt acts a chairman of the Philippine Red Cross," Trillanes warned, with Gordon seated nearby.
Gordon stood up and asked that the name of the Philippine Red Cross be removed from the records.
"You can hurt me but not the Philippine Red Cross," Gordon said.