'Marawi crisis a stalemate'
September 3, 2017 | 4:00pm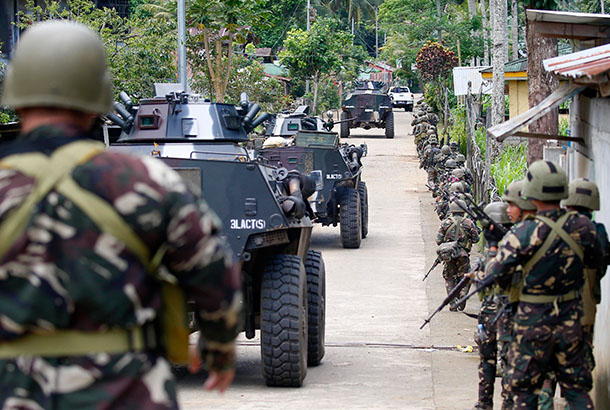 DAVAO CITY , Philippines – Three months after Maute terrorists laid siege to Marawi, the crisis in the city has reached a "stalemate," according to President Duterte.
"It is a stalemate now because of my asking the military to slow down," Duterte, likening the situation to a chess game, said at the birthday party of Davao City Rep. Karlo Nograles late Saturday.
Duterte said the stalemate was brought about by his advice to the Armed Forces to go slow in the assault on the terrorists who are holding several civilian hostages.
The President said that no matter how easy it would seem to bomb the mosques in the city to finally end the crisis, still his sensitivities to the Muslim community prevailed upon him never to do it.
"I told the top (military) echelons, take it easy, we cannot destroy the mosque, because that will forever… spawn hatred from the Muslim community," he said.
Duterte said he finally gave the military the discretion on how to end the fighting in Marawi City.
Duterte said his decision allowing the military to attack is a heavy responsibility he has to bear.
He said he is conscious of the feedback from the populace asking what took the military operation in Marawi too long so that it brought about more than 200 people dead, including government forces, as it also displaced more than 100,000 people.
The siege in Marawi began on May 23 when the Maute group, named after brothers Omar and Abdullah, captured parts of the city in an alleged bid to establish an Islamic State caliphate in Mindanao.
The clashes erupted after government troops attempted to arrest Abu Sayyaf leader Isnilon Hapilon in the city. Hapilon, known as IS's anointed leader in Southeast Asia, evaded arrest and has reportedly left the war-torn city.
Malacañang said yesterday it is just "a matter of time" that Hapilon will be captured.
Presidential spokesman Ernesto Abella said the information that Hapilon was seen in Basilan, hundreds of kilometers from Marawi, remains unverified.
"We treat numerous reports saying that Isnilon Hapilon has left Marawi and has been seen openly in Basilan as raw information requiring further validation by the military and various security agencies of government," Abella said.
"However, recent military assessments indicate that he is still very much in Marawi. Our forces are hot on their heels and it will only be a matter of time before we get him," he added.
If the reports about Hapilon's presence in Basilan were true, he had abandoned his men as the battle of Marawi nears its final stretch, Abella said.
"We will get Isnilon Hapilon," the presidential spokesman stressed.
A total of 614 terrorists, 45 civilians and 133 government troopers have been killed since fighting broke out last May 23.
Military officials said they are preparing their "final assault" against the Maute group but did not put a deadline for their operations.