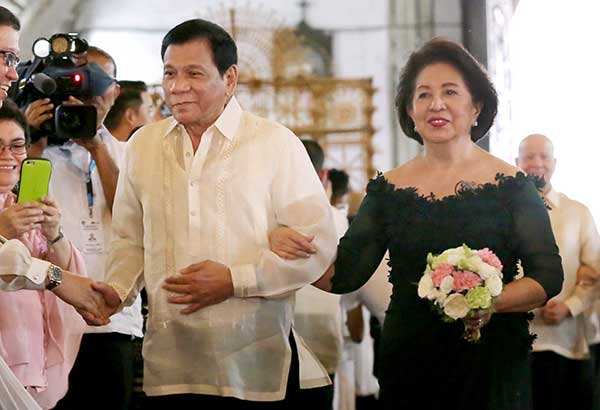 FAMILY TIES: Photo taken on Sept. 17, 2016 shows President Duterte and Ombudsman Conchita Carpio-Morales walking down the aisle as principal sponsors during the wedding of Waldo and Regine Carpio in Intramuros, Manila. Waldo Carpio is a brother of Manases Carpio, husband of Duterte's daughter Sara. Morales is the sister of Waldo and Manases Carpio's father.
Duterte questions ombudsman's stay in office
MANILA, Philippines - Irked by her "selective justice," President Duterte said he is reminding Ombudsman Conchita Carpio-Morales of her "very precarious" hold on her position as she is just serving the remaining term of her predecessor who resigned to avoid impeachment proceedings.
"You are supposed to serve the remaining term of the guy who resigned, not to a full term. That is very clear under the law. But it has not been questioned until now. I do not know why," Duterte said in remarks at the mass oath-taking of 70 newly appointed government officials at Malacañang yesterday.
He was referring to Merceditas Gutierrez who resigned in 2011 before she was to face an impeachment trial. The Chief Executive did not cite a specific law that requires Morales to serve only Gutierrez's remaining term.
"Everyone calls for 'due process' and (dispensing) of justice without fear or favor," Duterte said.
The previous Aquino administration appointed Morales in July 2011 shortly after Gutierrez resigned on March 22, 2011 to preempt impeachment proceedings at the House of Representatives.
Gutierrez, who assumed office on Dec. 1, 2005, served six years of a seven-year term.
Duterte argued that Carpio-Morales should have just served Gutierrez's remaining one year. He called on Morales to fulfill her duty without fear or favor.
"Let the remaining months of your incumbency be truly reflective of your mandate to do justice to everyone without favor or bias," Duterte said.
In his remarks, Duterte talked about what he considered the biases of the current ombudsman, whom he accused of acting promptly on cases against perceived political enemies but dragging her feet on complaints against individuals and personalities in her good graces.
"The wheels of justice grind to a halt when those tasked to dispense it have friends to serve and debts of gratitude to pay, no matter what," the President said.
"But sad to say, recent events show that no less than the Office of the Ombudsman, which is supposedly the embodiment of everything that is just, fair and reasonable, has not exactly lived up to its constitutional mandate," the Chief Executive added.
"The lack of moral courage to do what is right and act beyond those twin failings ends up in inequitable decisions. 'Scratch my back and I will scratch yours,' is how some people describe it," he said.
"It is, to me, detestable," he added, reading from a prepared speech and injecting impromptu remarks in the process.
He said her lack of fairness was evident in the graft charges related to the misuse of pork barrel funds, slapped against former senators Jinggoy Estrada and Ramon Bong Revilla.
While Morales has been around since Aquino's term, Duterte noted the cases against the two senators were hardly moving.
"Why can't they just wind up the cases against the senators?"
Estrada was first to accuse Morales of employing "selective justice" during a privilege speech a few years ago while they were being pilloried as corrupt by the allies of the Aquino administration.
"Ba't 'yung kaso nila hanggang ngayon (Why are the cases against them still pending?)… You know, it's sauce for the goose, sauce for the gander. If you allow a certain person to post bail, there is absolutely no ground – legal or otherwise – na bakit 'yung iba, hindi mo rin gawin (not to give the same privilege to others)?" Duterte said.
Worried about Gringo
Duterte also raised concern over the filing of charges against Sen. Gregorio Honasan, also in relation to pork barrel funds misuse. He said he feels pity for the former renegade soldier-turned-politician for his latest predicament.
"At ang batting average ng conviction, sinabi ko sa inyo, sa Ombudsman, case is filed, is two to eight. Eight is acquittal, two ang conviction. Bihira," Duterte added, recalling he himself had been charged but eventually acquitted.
When his case reached the Supreme Court, it was eventually dismissed. "But at a great expense sa abogado (for lawyers). And I was exonerated," Duterte added.
In his remarks, he also accused Chief Justice Maria Lourdes Sereno of sitting on temporary restraining order (TRO) on two contraceptive implants regulated under the Reproductive Health (RH) Law.
Duterte said some drugs bought by the government had expired without being distributed because the Supreme Court had not decided yet on the TRO.
"The medicine have been purchased, expecting that it would, you know, be needed by government," the President said.
"Until now, it's two years ago, the medicine have expired. Sereno is sitting on it. What's the problem, ma'am? We spent money, we bought medicine only to expire," he added.
Duterte said he has no problems with the justices of the Supreme Court but criticized the delays in the issuance of judicial decisions.
"A simple pre-sentence would say if you are going to deny it, 'We denied it because it is an abortive substance,"' the President said.
"Until now, there is none…There is something terribly wrong in our country, I tell you – very, very wrong," he added.
The Supreme Court has clarified that the TRO does not suspend the implementation of the RH Law but only covers the distribution of contraceptive implants Implanon and Implanon NXT.
The TRO, issued in 2015, barred the distribution of the two contraceptive implants until they are proven that they do not cause abortions.
In the same speech, Duterte clarified that he was not referring to Sereno when he talked about an official spending lavishly on foreign trips.
"Justice Sereno made insinuations that I was alluding to her. Actually, none of the above. It was generic," the President said.
"I rely on documents that are given to us here in the Palace… I do not put a premium of truth in it actually. But something that is transmitted to us officially… If that is the situation, I have to make it public. I cannot make it a secret because the people will say, 'We informed him about it but did nothing,'" he added.
"From what I gathered from the papers was that she was traveling first-class. When I was a congressman, we were allowed to travel but we can only take the business class," he said.
Duterte said he had revealed the information about the official so that the "Filipinos would know the game of life in the Philippines." – With Alexis Romero