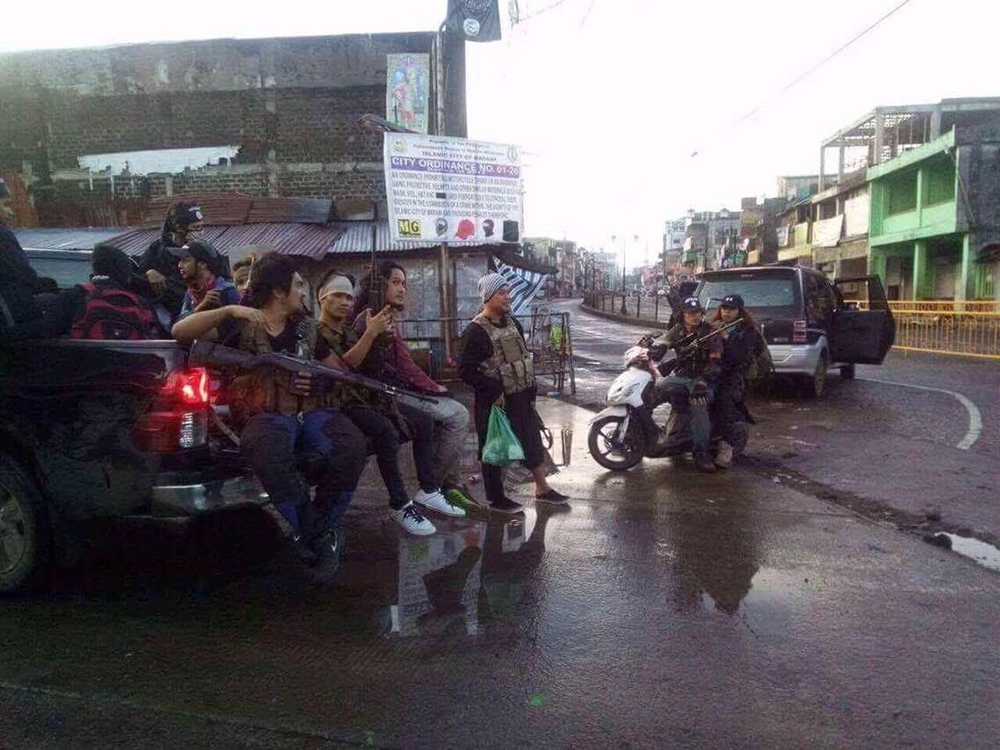 Maute terrorists are planning to use their captives as suicide bombers once they are cornered by government security forces, according to three hostages who escaped from the war zone in Marawi City. Lawyer Maki Datu-Ramos/File
Mautes plan to use hostages as suicide bombers
Roel Pareño
(The Philippine Star) - August 13, 2017 - 4:00pm
ZAMBOANGA CITY , Philippines — Maute terrorists are planning to use their captives as suicide bombers once they are cornered by government security forces, according to three hostages who escaped from the war zone in Marawi City.
Romar Marjalino, 39; his brother Roel, 37, and Jimmy Esperat, 43, yesterday told authorities that the terrorists would strap improvised explosive devices (IEDs) to the hostages.
The three reunited with their families at the Naval Forces Western Mindanao (NFWM) in this city Sunday.
The hostages escaped from their captors last week and were turned over by NFWM chief Rene Medina to Mayor Maria Isabelle Climaco-Salazar on Saturday.
Medina said the victims had to undergo debriefing, as their information could be useful to the military operations.
Marjalino confirmed that Catholic priest Fr. Teresito Suganob is still alive.
"We were with Father Chito. He is okay, but he is tasked to collect powder from piccolo, five-star and other explosives to be used for improvised bombs that will be rigged to us," Marjalino said.
The Mautes have so far not strapped an IED to any hostage, Marjalino said, adding there are about 46 hostages remaining at the site where the Mautes held them.
Among them are 20 women including teachers and ordinary workers, and 13 minors.
Marjalino said that during their captivity, several children died from suffocation due to bomb explosions and foul smell of decomposing human flesh.
Ready to die
Fr. Suganob is ready to die in the hands of the Mautes, according to Marjalino.
He said they asked Suganob to escape with them, but the priest has become weak due to trauma and bombings that hit their hovel.
"For him, he would be happy if a huge bomb would hit the area."
Marjalino said the most critical part of their escape was when they swam across a river more than 1,000 meters wide and under the watch of enemy snipers.
He said they had been planning to escape since the first day of their captivity, but were cowed by the heavy presence of terrorists watching over them.
"If we would escape we would surely die," he said, adding he opted to stay with his brother and Esperat, who were serving as cooks for the terrorists.
He said Malaysian noodles and canned goods are the favorite meal of the Mautes.
"Some of the terrorists were good to us, others treated us like animals."
Marjalino said the relentless military operations in Marawi reduced the number of their guards.
He said the military air strikes resulted in higher casualties among the Mautes, noting five to six terrorists were killed in a mosque where the captives were held.
Esperat said the terrorists seized all their phones, but they managed to recover one of them.
When the number of Maute guards became fewer, Marjalino contacted his wife Joy, who alerted the NFWM.
The NFWM alerted its units in Lake Lanao, which instructed Marjalino on which route to take.
Marjalino said they were asked if they could swim toward the Navy position, whose men would cover them from enemy snipers.
They used plastic containers as floaters until they reached the Navy post.
Roel and Esperat plotted the escape on Aug. 4, as all their Maute guards were asleep.
"All were asleep except from the one at the main door. With God's help, that guard did not see us."
The three walked on the rubble of buildings and houses flattened by air strikes until they reached the wharf, where enemy snipers with 50mm caliber guns were posted.
Salazar and the victims thanked Medina and all soldiers fighting in Marawi.