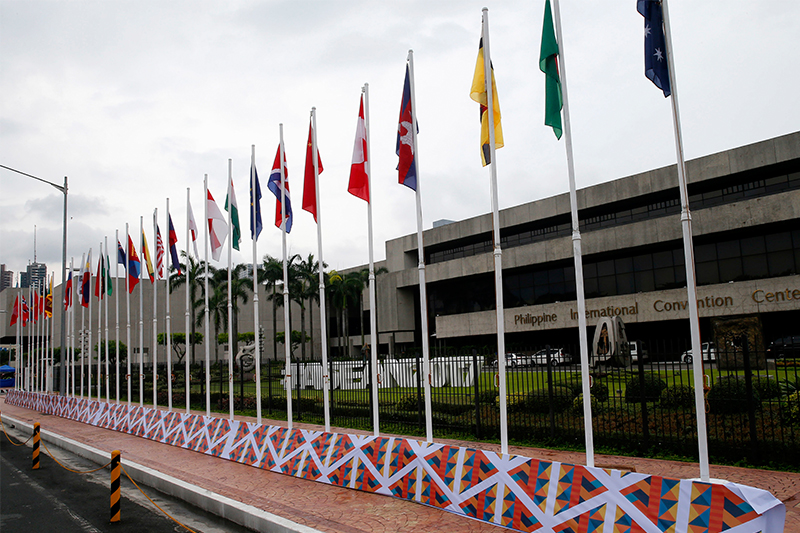 Flags flutter outside the Philippine International Convention Center, the venue for the Aug. 2-8 50th Association of Southeast Asian Nations Foreign Ministers' Meeting and its regional partners, Wednesday, Aug. 2, 2017 in suburban Pasay city, south of Manila, Philippines. An initial draft of a joint communique to be issued by the ASEAN foreign ministers, which was seen by The Associated Press on Wednesday, says they would ask senior diplomats to immediately initiate talks on the so-called code of conduct in the disputed sea after their governments agreed on a framework of the accord with China in May. AP/Bullit Marquez
DFA: 'Soft' draft ASEAN statement on sea row could still evolve
MANILA, Philippines —The draft joint communique of the Association of Southeast Asian Nations which that has been said to be "soft" on China could still change, the Department of Foreign Affairs said Thursday.
The draft statement of the ASEAN foreign ministers failed to express concern over China's recent activities in the disputed South China Sea.
In the draft statement, the top diplomats of Southeast Asian countries only "took note" of concerns of some ministers over the developments in the region.
READ: Amid watered down statement, ASEAN ministers share South China Sea concern with Tillerson
DFA spokesperson Robespierre Bolivar, however, remained mum on the accuracy of the leaked joint communique among members of the media.
"The views, the concerns of all ASEAN member states will be expressed in the joint communique and it will be adopted by consensus as different from the chairman statement where the chairman is free to reflect whatever he or she believes is an accurate representation of the discussions on the floor of that meeting," Bolivar told reporters in a media briefing.
President Rodrigo Duterte's ASEAN chairman's statement last April removed the mention of concerns over Beijing's militarization of artificial islands in the disputed waters.
Foreign ministers of the 10-member regional bloc will be in Manila this week for the 50th ASEAN Ministerial Meeting and Other Related Meetings.
Bolivar said that one of the agendas during the ministerial meeting would be the outcome of documents such as the joint communique.
"There is every likelihood that it could still evolve," Bolivar said.
The draft statement reaffirmed the importance of maintaining peace, stability, security and freedom of navigation and overflight in and above the South China Sea as the conclusion of a substantive code draws near.
The ASEAN foreign ministers are expected to adopt the framework of the COC during the ASEAN-China Ministerial Meeting on August 6.
"As a framework, this is an outline of what we hope to see in the Code of Conduct," Bolivar said.
RELATED: DFA: Framework on South China Sea code might skip Hague ruling