Duterte hits 'nutcase' Kim Jong Un: He must be stopped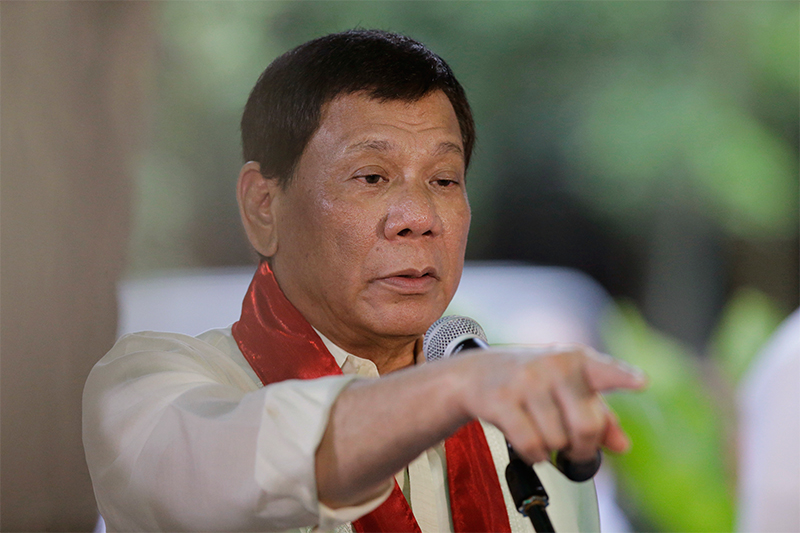 MANILA, Philippines — President Rodrigo Duterte criticized North Korean leader Kim Jong Un for "playing with dangerous toys" ahead of the East Asia Summit in the Philippines.
RELATED: Tillerson, North Korean envoy to cross paths, but won't meet
In a speech during the 113th founding anniversary of the Bureau of Internal Revenue, Duterte called the North Korean leader a "son of a bitch."
"I do not think he is ready but he's playing with dangerous tays 'yang buang na 'yan. It must be stopped, itong nuclear war," Duterte said. "Buang" translates to "nutcase" or "crazy."
The president noted that a nuclear war would deplete the country's soil and natural resources.
"Let us pray to God na somehow itong gago na ito maano," he said.
During a meeting between US Secretary of State Rex Tillerson and ASEAN foreign ministers last May, the top diplomats of their respective countries affirmed the need for full implementation of sanctions on North Korea.
North Korean Foreign Minister Ri Yong-Ho will be in the country next week to attend the Association of Southeast Asian Nations Ministerial Meetings and Related Meetings in Manila.
Last July 4, North Korea launched an intermediate-range missile landing in waters near Japan, according to US, Japanese and South Korean officials.
The missile appeared to have flown for about 40 minutes, which is longer than previously reported tests.
The ASEAN foreign ministers are seen to express grave concerns over the developments in the Korean peninsula based on a leaked draft joint communique.
"Noting that these developments threaten peace and stability in the entire region, we urged the [Democratic People's Republic of Korea] to fully and immediately comply with its obligations under the relevant [United Nations] Security Council Resolutions," the draft communique read.
The foreign ministers are also expected to express support for the denuclearization of the Korean peninsula and called for the resumption of dialogue between concerned parties to defuse tensions in the region.
RELATED: US, ASEAN agree on tighter sanctions vs North Korea
On Tuesday, Tillerson expressed the United States' policy on North Korea, saying it is not after regime change or the ousting of leadership. The policy is shared by South Korea, a senior South Korean official said in Manila last month.