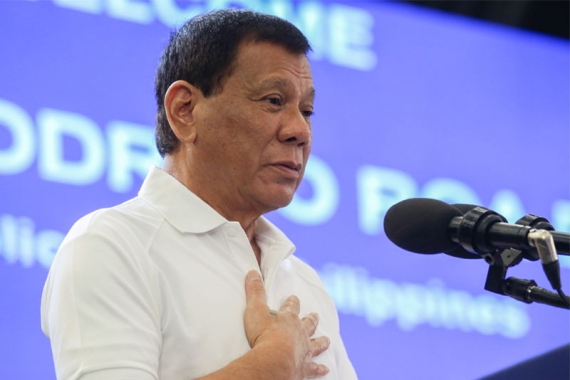 President Rodrigo Duterte speals at the 11th Ambassadors' Tour Philippine Reception at the SMX Convention Center in Davao City on July 14, 2017. PPD/Simeon Celi Jr.
Palace: Duterte's rape remark was sarcasm, not a joke
MANILA, Philippines — President Rodrigo Duterte's latest remark about rape is not a joke but a "sarcastic statement" meant to convey a serious message to criminals, Malacañang said on Monday.
Duterte drew flak for saying that he would congratulate a rapist for "having the balls" to commit the crime even if he knows that he would die for doing so.
"Ang ayaw ko 'yung bata. Kung pakialaman mo siguro 'yung Miss Universe (I do not like the rape of children. If you mess up with the Miss Universe), maybe I would even congratulate you for having the balls to rape somebody when you know that you are going to die," the president said in a speech in Davao City on July 14.
Critics have condemned Duterte for supposedly making light of rape but presidential spokesman Ernesto Abella claimed that the President was not joking when he made the statement.
READ: Duterte's rape joke aims at Miss Universe
"Basically, it's not a joke. It's a very serious statement, that's actually saying—kumbaga para niyang sinabi, 'Bilib naman ako sa iyo, gagawin mo pa iyan, alam mo ikakamatay mo iyan (he was saying 'I admire you for doing that even if you know that you will die because of that)," Abella said in a press briefing in Malacañang.
"It's a sarcastic statement. It was not a joke," he added.
Despite Duterte's controversial statements, Abella believes that the masses still understand the message that the president is trying to convey.
"The president is more than just jokes," Abella said.
"The people actually really do get him. He gets them and they get him," he added.
During the campaign period for the 2016 presidential race, Duterte was heavily criticized for his remark about the rape and murder of an Australian missionary in Davao City in 1989. Duterte was mayor of the southern city for more than 23 years.
During one of his campaign sorties, Duterte said the missionary looked like an actress and as mayor "he should have been first." He later on claimed that he was merely expressing his anger over the incident.
Duterte made another rape remark last May 26, three days after he placed Mindanao under martial law.
Speaking to Army troops in Iligan City, Duterte said he would answer for a soldier who rapes three women, a message that was meant to convey support for government forces enforcing his martial law.
The president later on explained that he was just sarcastic when he made the statement.
"I am a man of sarcasm. Have you not noticed that? I did not say rape rape. I said when you rape, I will answer for you because as commander-in-chief, I hold responsible for everything and anything that is done as a consequence of martial law," the president said in a speech delivered last May 31.
'I was not joking'
President Duterte claimed on Monday that he was not joking when he made a remark about rape last week.
Duterte explained that his comment was made in the context of the Bulacan massacre, which left five people, including three children dead.
"Yung sabi rape, di ako nagjojoke (With regard to the rape, I was not joking)," the President said during the oath taking of new appointees in Malacañang.
"I was mentioning to the group what happened to Bulacan. Pati yung isang taong bata pinakialaman pa, pinatay (Even the one year old child was killed)," he added.
Duterte stressed that he would not hesitate to kill anyone who will prey on the Filipino youth.
"I said even if you rape a one-year old or Miss Universe, just the same...I will kill you," he said.