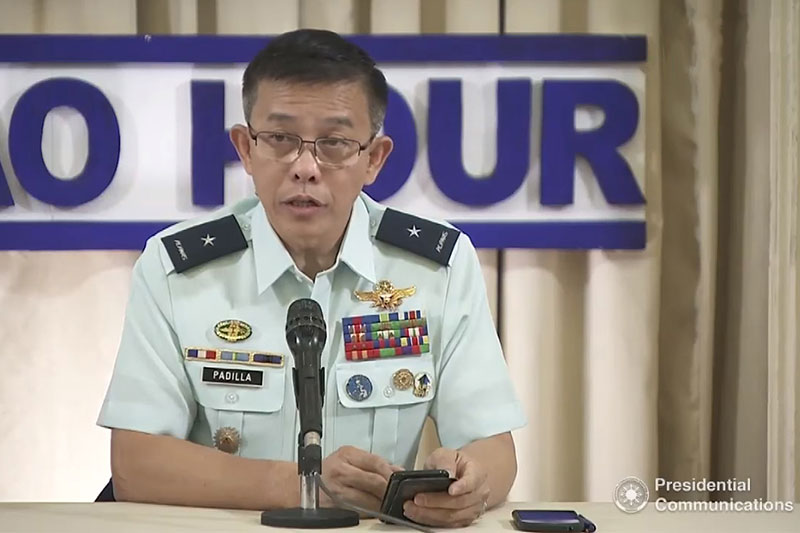 Armed Forces spokesman Brig. Gen. Restituto Padilla is not buying the idea, saying the issuance of IDs to just one sector is "discriminatory." Presidential Photo, File
AFP opposes ID cards for Muslims
MANILA, Philippines - The military is not in favor of the proposal to issue identification cards (IDs) to Muslims, saying it discriminates against people based on religion.
The Central Luzon police have suggested the issuing of special IDs to Muslims from Mindanao, saying this would allow authorities to identify people with ties to terrorists.
A similar system is being implemented in Paniqui, Tarlac, according to Central Luzon police director Chief Supt. Aaron Aquino.
But Armed Forces spokesman Brig. Gen. Restituto Padilla is not buying the idea, saying the issuance of IDs to just one sector is "discriminatory."
"Our proposal is when we start checking identification of individuals, it should not be aimed at certain sectors of our society but it must be applicable to everyone," Padilla said in a press briefing yesterday in Malacañang.
Padilla stressed that the Marawi crisis is not a religious war and not all Muslims are supportive of the Maute terrorists.
"Not all our Muslim brothers and sisters are part of the rebellion. Only a few of them are… Terrorists are trying to make it appear that it is a religious war… Let us not allow them to incorporate such themes in this conflict," he added.
Instead of issuing a special ID for Muslims, the military is pushing for a national ID system, a measure that some sectors fear could pave the way for invasion of privacy.
"We are a strong proponent of the national ID system," Padilla said. "If that can be pushed, and I think Congress is pushing it, that would be some of the best measures that we can take."
Malacañang previously said it is open to a national ID system but clarified that the proposal is not among its priority bills.