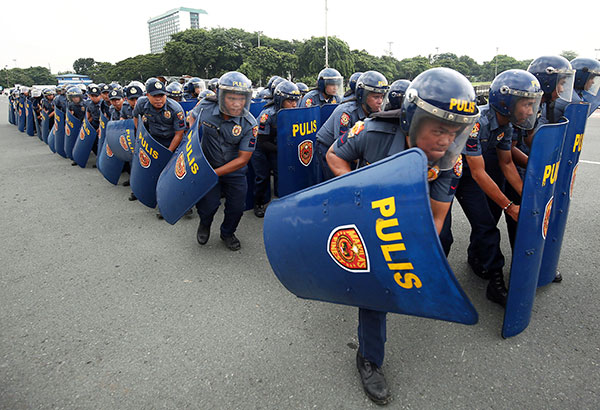 At least 6,000 police officers will be deployed to secure the Batasang Pambansa complex in Quezon City during President Rodrigo Duterte's second State of the Nation Address (SONA) on July 24, an official said yesterday. Miguel De Guzman/File
6,000 cops to secure SONA
MANILA, Philippines - At least 6,000 police officers will be deployed to secure the Batasang Pambansa complex in Quezon City during President Duterte's second State of the Nation Address (SONA) on July 24, an official said yesterday.
National Capital Region Police Office chief Director Oscar Albayalde said they would finalize security preparations for the SONA this week.
The NCRPO is ready to secure the SONA following a Crowd Disturbance Management (CDM) competition on Saturday, which was won by the Northern Police District (NPD), Albayalde said.
"We will meet for the third time either tomorrow or Wednesday to fine-tune some lapses we noticed in the security preparations," he said.
Quezon City Police District director Chief Superintendent Guillermo Eleazar, overall commander for SONA security, said he has met with Bayan secretary general Renato Reyes to ensure that their protest actions would be orderly.
Eleazar will meet this week with leaders of other militant groups expected to join the rallies.
"It would be a busy week for us. We would not only be meeting with the leaders of the militant groups leaders but also with the military leadership to map out their role in securing the President's SONA," Albayalde said.
He said the protesters would be allowed to march some 50 meters away from the south gate of the Batasang Pambansa building.
But the militant groups will only be allowed to use three of eight lanes along Commonwealth Avenue to prevent heavy traffic in the area.
The NCRPO chief clarified that the security preparations they intend to implement would be subject to change according to the wishes of Malacañang.
The NPD received P30,000 after winning the CDM competition. The QCPD and the NCRPO's regional public safety battalion received P20,000 and P16,000, respectively for winning the second and third prizes.
The Eastern, Southern and Manila Police Districts get P10,000 each.