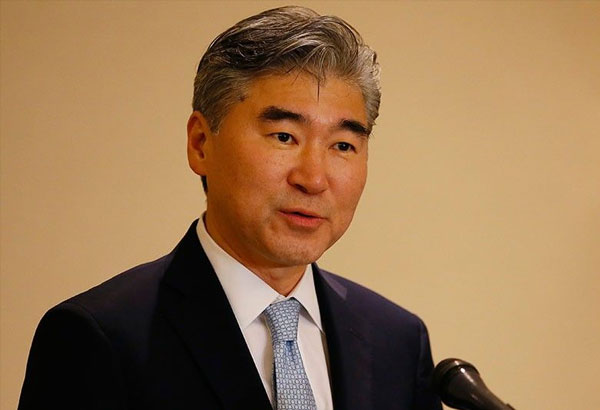 The United States continues to stand by the Philippines in the latter's fight against terrorism and in efforts to fully secure and rebuild the ravaged Marawi City, Ambassador Sung Kim said in remarks on Thursday at the commemoration of the 241st anniversary of US Independence. AP/File
US vows to stand by AFP vs terrorism
MANILA, Philippines - The United States continues to stand by the Philippines in the latter's fight against terrorism and in efforts to fully secure and rebuild the ravaged Marawi City, Ambassador Sung Kim said in remarks on Thursday at the commemoration of the 241st anniversary of US Independence.
"We will continue to stand by the Armed Forces of the Philippines as they courageously fight terrorism to keep this country safe," Kim told a gathering of diplomats and officials at the Makati Shangri-La Hotel Thursday night.
He noted the US and the Philippines share common core values.
"And we are proud of the support and President Duterte's determination to secure and rebuild Marawi," he said.
In earlier remarks to the media, the ambassador said the US would continue its assistance to Filipino troops, especially those fighting Maute and Abu Sayyaf militants in Marawi.
"Our thoughts are with the Armed Forces of the Philippines and the residents of Marawi," Kim said.
"They are going through a very difficult time and I will now assure them that we will continue to support them in any way possible going forward," he added.
"This is a good time to think about and reflect on America and America's friendship with the Philippines."
US Defense Secretary James Mattis assured the Philippines in his address at a regional security summit in Asia last month that the US remained committed to helping a long-time ally under the Mutual Defense Treaty.
The US, he added, was unwavering in its commitment to help in the modernization of the Armed Forces of the Philippines.