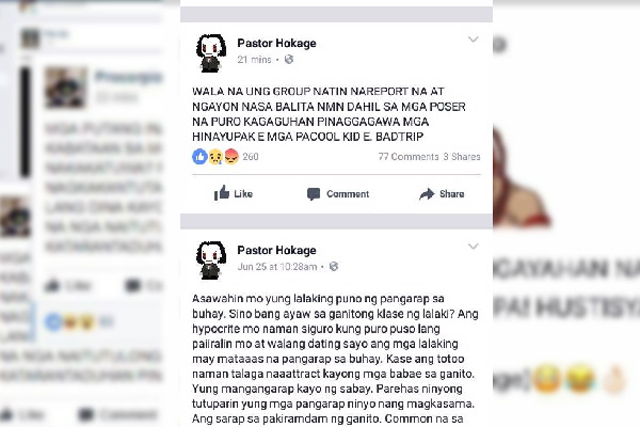 The secret groups hide behind silly but innocuous names like "Pastor Hokage Bible Study." File
Bill proposes 10 years in jail for Hokage 'parishioners'
(Philstar.com) - July 6, 2017 - 1:45pm
MANILA, Philippines — Sen. Risa Hontiveros on Thursday urged the imposition of harsher penalties against netizens who post lewd and illicit photos of women and children on social media.
In her call for passage the of Anti-Gender Based Online Violence Law, Hontiveros proposes a penalty of imprisonment of between five and 10 years against violators. She also wants them to pay a fine of from P100,000 to P500,000.
The Anti-Photo and Video Voyeurism Act of 2009, passed in response to a series of leaked sex videos involving celebrities, already penalizes taking and distributing videos or images of sexual acts and "of the private area of a person/s such as the naked or undergarment clad genitals, public area, buttocks or female breast without the consent of the person/s involved and under circumstances in which the person/s has/have a reasonable expectation of privacy."
Violation of that law carries a penalty of from three to seven years in prison and a fine of P100,000 to P500,000.
The move was sought in light of reports of "secret groups" on Facebook and other social media platforms that actively post and share obscene photos of women and children. In the secret groups, which bear silly but innocuous names like "Pastor Hokage Bible Study," members, mostly men, use terms like "Amen" to express their approval for obscene photos and sexist posts of women and minors.
Hontiveros, who is also chair of the Senate Committee on Women, vowed to probe the groups and hold those behind them accountable.
"These Facebook Hokage Pastor Groups have no right to enjoy our internet freedom only to abuse our women and children. We will unmask all these mysogynists, prosecute them to the full extent of the law and hold them accountable," Hontiveros said.
The senator said she has already coordinated with Facebook, pro-women netizens, and the National Bureau of Investigation regarding the issue.
"We must put an end to this online locker room talk, which is a manifestation of the culture of misogyny and commodification of women prevalent in our country right now," Hontiveros said.
"Together with our campaign to make our streets and homes safe spaces for our women and children, we will do the same in the realm of social media. We will give no quarter to misogyny and sexism whether they are online or off," she added.
Gabriela Women's Party earlier condemned the secret groups and sought the public's help in taking the pages and groups down.
On Wednesday, NBI Cybercrime Division chief Martini Cruz advised the public in an interview on radio dzMM to be wary of the information and photos they post online.
"Ang ipinapayo po natin sa citizens natin, huwag naman silang post nang post ng information about themselves, contact number, address. Saka iwasan nilang magse-selfie nang kung minsan naliligo naka-one piece, two piece," Cruz said. — Rosette Adel