PAF plane back from US with rockets, bombs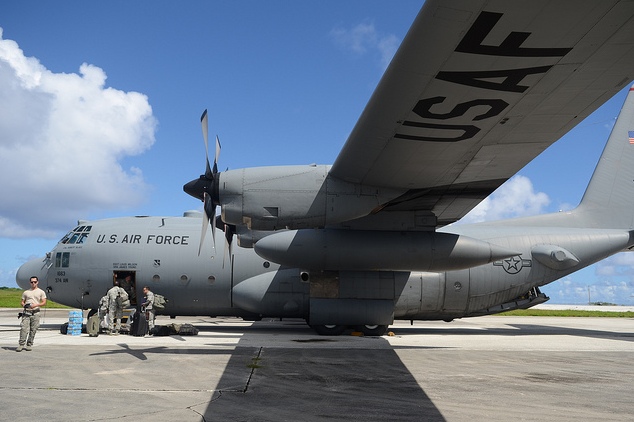 MANILA, Philippines - A Philippine Air Force cargo plane dispatched to the United States on a supply run last month is back in the country with a load of rockets and munitions needed to replenish the stockpile of the Armed Forces of the Philippines (AFP).
The defense and military leadership sent the C-130 Hercules cargo aircraft to Tucson, Arizona to bring home the bombs and rockets needed for the airstrikes in Marawi City to flush out the Maute terrorists.
"Those munitions are intended for (the attack) aircraft," Defense Secretary Delfin Lorenzana said.
Lorenzana earlier said the military's inventory of munitions for FA50s and other aircraft was running low in the offensive against the Mautes in Marawi.
The AFP is currently using FA50s, OV-10 Bronco attack aircraft and SIAI-Marchetti SF-260 light attack planes as well as the AgustaWestland AW-109 and MG-520 attack helicopters in hitting the well-entrenched Maute gunmen.
Lorenzana also revealed the defense department is expected to receive delivery of Unmanned Aerial Vehicles (UAVs) from the US in September.
The US government has programmed to hand over a Scan Eagle-type UAV but delivery would take time, as the transfer has to pass through various agencies.
"Eventually, they told us that they are now ready to deliver. So they might deliver to us the Scan Eagle-type sometime September or October," Lorenzana said.
Malacañang said the US has expressed its full support for the military operations to flush out terrorists.
Presidential spokesman Ernesto Abella said US Ambassador Sung Kim has vowed support for the administration's campaign to rid Marawi City of the gunmen allied with Islamic State.
"The ambassador reiterated the US government's full support for the Philippine government operations in Marawi as well as in its reconstruction and rehabilitation efforts for the Islamic city," Abella said.
Australia is also supporting the Philippine military in the war against the Maute extremists.
Lorenzana said two of Australia's P3 Orion spy planes are now flying over Marawi and have been providing vital information since Friday to ground troops.
He said the two spy planes will be around for two weeks.
Lorenzana said the two planes will fly in shifts as they conduct surveillance and reconnaissance missions to support Filipino ground troops.
Aside from Australian crews, Filipino pilots and technicians are also aboard the planes, flying alternately. Their task is to relay information and images obtained to the ground military units in Zamboanga City, who in turn will be forwarding them to the troops in the battleground in Marawi City.
The Australian aircraft can operate for stretches of 24 hours, ensuring constant coverage of the battle area.
The Philippines and Australia has a Defense Cooperation Agreement that provides the mechanisms for military support, intelligence sharing and people-to-people exchanges.
"In the fight against global terror, we need to act as a community of nations. Any help and support we can get from our friends and allies will always be welcome," Lorenzana said. – With Christina Mendez