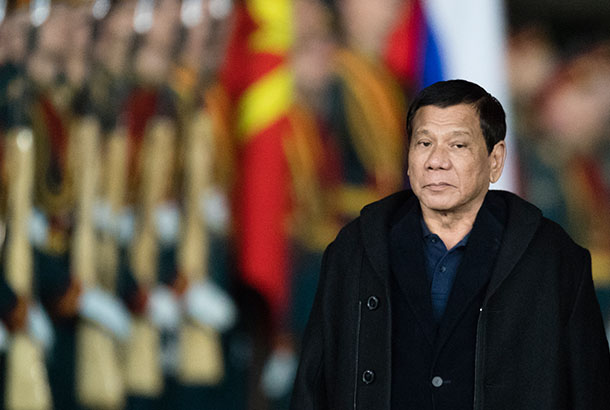 President Rodrigo Duterte reviews honour guards upon his arrival at government airport Vnukovo II just outside Moscow, Russia, late Monday, May 22, 2017. AP/Pavel Golovkin, file
Duterte apologizes for martial law: I did not have any choice
MANILA, Philippines – President Rodrigo Duterte on Tuesday apologized to residents of Marawi for declaring martial law in Mindanao, saying he had to do it to repel the terrorists who are destroying the city.
Duterte said the Maute militants, who have pledged allegiance to the extremist group Islamic State of Iraq and Syria (ISIS, also Islamic State or IS), left him no choice but to impose military rule.
"I hope in the soonest time, you will find a new heart to forgive my soldiers, the government, even me for declaring martial law. I did not have any choice. They are destroying Marawi," the president said during his visit to an evacuation center in Iligan City.
The declaration of martial law is the subject of petitions at the Supreme Court questioning the necessity and factual basis for it. Petitioners do not dispute that the government should deal with terrorism, only whether it was necessary or constitutional to declare martial law.
Martial law has the support of both houses of Congress and of business leaders in Mindanao.
"I have to drive them out. But I am very sorry. Paki-abot na lang doon sa mga kapatid nating mga Maranao na ang aking paghihinanakit rin sa nangyari na ito. Patawarin ninyo po kami. (Please relay to our Maranao brothers and sisters my regrets for what happened)," he added.
'We will rehabilitate Marawi'
Duterte vowed to rebuild Marawi City and to make it beautiful again.
"The most important thing is that matulungan ko kayo (you receive help). Huwag kayong mag-alala, tutulungan ko kayo, hindi ko kayo pababayaan, hanggang relocation (Do not worry. I will help you. I won't abandon you until relocation), the President said.
"And then we will rehabilitate Marawi. Gaganda 'yan ulit, gaganda ulit 'yan (It will be beautiful again)," he added.
Duterte said he will allocate about P20 billion for the rehabilitation of affected areas. The amount is twice the P10-billion rehabilitation budget proposed by the Defense department.
"The president raised the allocation (for the Marawi rehabilitation)," Defense Secretary Delfin Lorenzana told The STAR in a text message.
An executive order outlining the "Bangon Marawi" reconstruction and rehabilitation plan is awaiting Duterte's signature.
Duterte placed the entire island of Mindanao under martial law on May 23 after Maute militants raided Marawi City, burned several buildings and kidnapped more than a dozen people, including a Catholic priest.
The Maute attack itself was triggered by a security operation against Abu Sayyaf leader Isnilon Hapilon, authorities in the early hours of the Marawi crisis.
A total of 258 Maute terrorists, 65 government troopers and 26 civilians have died since the clashes erupted in last month.
Duterte: We are averting a civil war
Duterte warned that a civil war between Christians and Muslims would ensue if the Maute problem is not resolved.
He said the terrorists, whose operations he said are funded by the sale of illegal drugs, want to replace Moro nationalism with extremism.
"The strong driving force is to replace nationalism or their issues like the loss of land to ISIS philosophy… It will be chaotic because even the Christians will arm themselves," Duterte said.
"We won't allow that to happen because even the civilian will take up arms. It will be a civil war," he added.
Duterte stressed that the conflict in Marawi could spill over to other areas.
"Kaya itong nag-question-question ng martial law, akala siguro ng mga g*** (Those who question martial law, perhaps they are fools)...if this spills over, it will reach Zamboanga and Jolo," the president said.
"Kung 'di naman ako mag-declare ng martial law, aabutin tayo ng problema patong-patong, baka hindi na natin ma-solve (If I don't declare martial law, our problems will pile up and we won't solve them)," he added.
Federalism, peace process can help solve Mindanao conflict
Duterte said continuing the peace process with the Moro Islamic Liberation Front and establishing a federal government would help solve the longstanding conflict in Mindanao.
The MILF has already signed a peace agreement with the government but that has yet to be implemented by the passage of a Bangsamoro Basic Law to create a region with more powers than the Autonomous Region in Muslim Mindanao but that will remain part of the Philippines.
Passage of the BBL faltered under the Aquino administration because of questions on its constitutionality.
Backlash from the Mamasapano incident in 2015, where 44 elite police commandos, 18 MILF fighters and several civilians died in a clash following a police operation launched without coordination with the MILF, also dampened support for the bill.