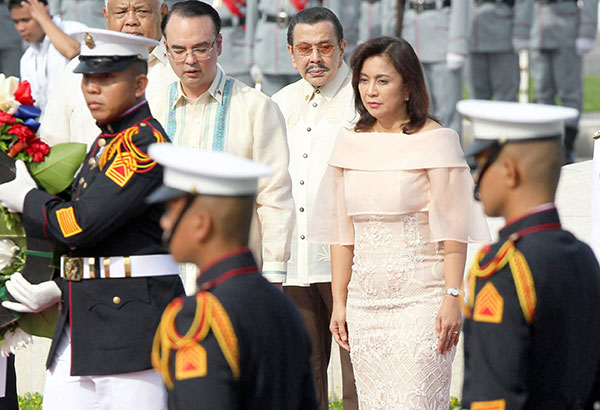 Vice President Leni Robredo leads the flag-raising rites during the celebration of the 119th Independence Day in Manila's Rizal Park yesterday. Looking on are Foreign Affairs Secretary Alan Peter Cayetano and Mayor Joseph Estrada. KRIZJOHN ROSALES
Not feeling well, Rody skips Independence Day rites
MANILA, Philippines - President Duterte skipped the Independence Day rites in Rizal Park yesterday because he was not feeling well, an official said.
Minutes before the start of the flag-raising ceremony, presidential spokesman Ernesto Abella told reporters that Duterte would skip the event.
"He won't be able to attend the event this morning. He did not give any reason why," Abella said in Filipino.
"Meron siyang hinaharap na ilang bagay upang maayos talaga ang ating hinaharap na challenge (He is dealing with some matters to address the challenges we are facing)."
Foreign Affairs Secretary Alan Cayetano, who represented Duterte during the event, said the President was not feeling up to par following engagements in Cagayan de Oro City and Pasay last Sunday.
"You know the President has been working 24/7, meeting the troops, meeting the commanders and then late last night, visiting the wounded and the dead. So that's why this morning, he didn't feel that well. Nothing to worry about but it's better for him to rest for now… because as you know the target was to liberate Marawi today, June 12," Cayetano said in a separate interview.
"He's resting. Hindi siya nag-pilit na magising kasi napakahirap na dalawa, tatlong oras lang tulog mo (He did not force himself to wake up early. It's hard to do so if you only slept for two to three hours)," Cayetano added.
Vice President Leni Robredo led the flag-raising and the wreath-laying ceremonies in lieu of Duterte.
Cayetano said he was informed about Duterte's decision to skip the event around 5:30 a.m.
He said the President was still in Metro Manila while the ceremony was being held.
Duterte visited wounded soldiers in Cagayan de Oro City at 4:30 p.m. Sunday before proceeding to Villamor Air Base to honor the Marines who died in Marawi City. The President left the air base at around 9 p.m.
Last week, the President canceled the traditional vin d'honneur to attend to matters related to the Marawi crisis.
The vin d'honneur is a reception hosted by the President at Malacañang on New Year's Day and Independence Day and attended by members of the diplomatic community.
Cayetano claimed that the President did not want to offer a toast with diplomats while soldiers are dying in the field and people displaced by the clashes are suffering in evacuation centers.
Leni to Pinoys: Unite
On the country's 119th Independence Day yesterday, Robredo called on Filipinos to unite and not be divided by political differences amid "weakening institutions" in these "extraordinary times."
"These are extraordinary times. If we're not able to lay aside our differences and talk to one another, we will be fighting enemies within as well as without," Robredo said in a speech at a summit on democracy at the University of the Philippines-Diliman.
"All of us here believe that defending our democracy is our biggest fight today. The hard work of protecting democracy will require all of us to be strongly united," she said.
She said disagreements on how to do things should never divide the people.
Robredo added the democratic institutions should strive to be more inclusive "to create a nation strong enough in these extraordinary times."
She noted the roots of discontent have been caused by weak institutions that allow an entrenched minority to monopolize economic and political power.
An official of the National Historical Commission of the Philippines (NHCP) yesterday said that this year's Independence Day celebration could be the first time the president failed to attend the flag raising ceremony.
Alvin Alcid of the NHCP Research Publication and Heraldry Division said that in his 20 years in the commission, this was probably the first time that a president missed attending the Independence Day flag-raising rites.
"As far as I know, almost all presidents were able to attend the flag raising ceremony at the Rizal Park, although there were a few instances when a president, like former president Benigno Aquino III, was in Iloilo in year 2015 and former president Gloria Macapagal-Arroyo led the flag raising ceremony on Independence Day in (Gen. Santos City) in Mindanao," said Alcid.
Alcid explained that aside from the Rizal Park rites, previous presidents have attended the Independence Day flag-raising ceremonies in Kawit, Cavite and Barasoain Church in Malolos, Bulacan.
The information the NHCP received was that Duterte was not feeling well and was not able to attend the ceremonies.
"We understand the situation. President Duterte sent his representative. All the preparations would still go on even if the President is not here," Alcid added.
Gie Arnold, head of the National Parks Development Committee-Cultural and Public Affairs Division, said that in their meeting about the Independence Day celebration last week, Malacañang confirmed President Duterte's attendance at the Rizal Park flag raising.
They were surprised when they were informed a few minutes before 8 a.m. that the President was not coming.
"The president and the vice president usually lead the Independence Day flag raising rites in different locations. Had President Duterte shown up and VP Robredo was there, it would have been the first time that the two top officials would be leading the flag raising ceremony. Maybe next time," Arnold said. – With Helen Flores, Evelyn Macairan, Paolo Romero