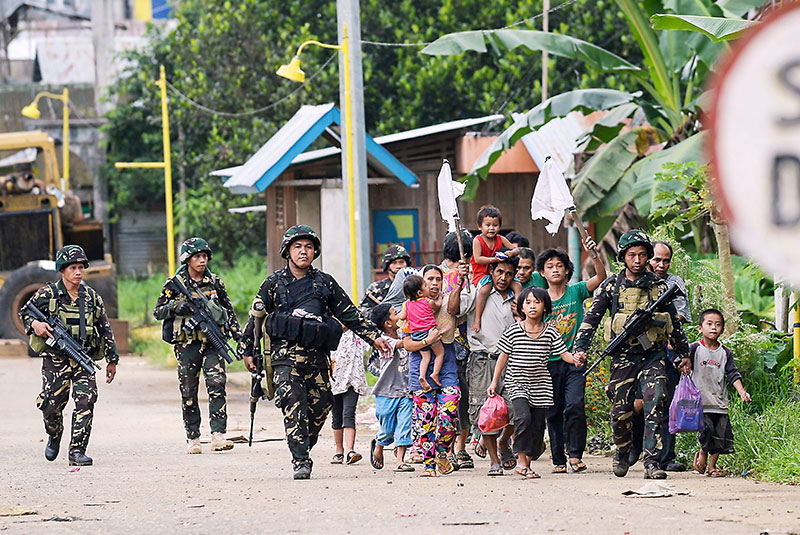 A Moro Islamic Liberation Front (MILF) volunteer is at the forefront of saving the lives of civilians caught in the fierce fighting between government forces and the Islamic State (IS)-inspired Maute group and Abu Sayyaf in Marawi City. AFP/File
MILF volunteer, rescue workers cited
(The Philippine Star) - June 11, 2017 - 4:00pm
MANILA, Philippines - A Moro Islamic Liberation Front (MILF) volunteer is at the forefront of saving the lives of civilians caught in the fierce fighting between government forces and the Islamic State (IS)-inspired Maute group and Abu Sayyaf in Marawi City.
Since volunteering for the job last week, Oshama Ali has been involved in the rescue of 217 civilians trapped in hostilities in the Islamic city in Mindanao.
"Everybody is afraid to venture into the area where fighting is ongoing. But the objective is to deliver humanitarian aid and save lives. Because if you manage to save lives, it's a big deal for us (in the MILF)," Oshama said.
At the height of the clashes in late May, MILF chairman Al Haj Murad Ebrahim and Presidential Peace Adviser Jesus Dureza met with President Duterte to discuss the concept of the peace corridor, a safe route civilians trapped in the conflict.
After the President immediately approved the concept's implementation, the MILF leaders chose Oshama to act as team leader for the Joint Coordination, Monitoring, and Assistance Center (JCMAC), the body that protects the Peace Corridor.
The JCMAC is composed of volunteers from the government, MILF, and Non-Violent Peace Force tasked to provide a safe route for affected civilians.
Prior to his appointment to the JCMAC, Oshama has also been serving as a member of the Ad Hoc Joint Action Group (AHJAG), a body that addresses criminality and terrorism in areas with MILF presence.
The peace corridor was established in the three-kilometer stretch of Banggulo Bridge to Quezon Avenue to allow the unhampered rescue of the trapped civilians and relief operations for the evacuees.
Asked whether he can manage to do JCMAC work while fasting during the observance of Ramadan, Oshama replied: "It's okay for us, no problem. It's our obligation to save lives of our fellow Filipinos."
Oshama admitted having encountered difficulties in bringing trapped civilians to a safer place since they started work last June 4. On that day, JCMAC volunteers rescued at least 179 civilians.
On its second attempt last Thursday, JCMAC brought 38 more civilians to safety – totaling 217 saved people, so far.
Oshama, however, brushed aside the difficulty and the danger to his life in fulfilling the mission of the JCMAC.
"Once you (have) saved lives, it's a big advantage for us and all the stress is gone," he said.
Praises for rescue, relief experts
Meanwhile, rescue and relief experts who have been deployed in dangerous areas in Marawi City since May 23 got praises on Sunday for heroic acts that can be chronicled in books.
Zia Alonto Adiong, a Maranao lawmaker among the 24-seat Regional Assembly of the Autonomous Region in Muslim Mindanao (ARMM), said he admires them for putting their lives on the line every day to help conflict-stricken residents.
"I'm so inspired watching their heroism unfold each day, ordinary people doing extraordinary jobs. Many of them are doing it for the good of mankind without salaries," Adiong, spokesman for the crisis management unit of the provincial government of Lanao del Sur, said.
The province, a component province of the ARMM, is overseeing relief operations in Marawi City, its capital.
Adiong said some of the rescuers and volunteer relief workers are Christians who have shown remarkable courage in extricating Muslims from scenes of encounters, bullets whizzing through their locations.
Karim Macalang, 35, said a burly Visayan rescuer ushered his family away from their small house riddled with bullets by Maute and Abu Sayyaf gunmen who had prevented them from leaving during the siege.
Macalang and his family are now safe in the house of a relative in Kapatagan town in Lanao del Sur.
"A rescuer talked to us in Cebuano, asking if we are alright, if we can come out so he can lead us to a truck parked nearby," he told The STAR in Filipino.
Adiong said he is also delighted with how Muslim elders led Christians to relief sites amid heavy exchange of gunfire nearby.
"These rescuers ought to be honored. I don't have enough words to express the provincial government's gratitude to all of them, working in very dangerous situations since the first day of the conflict," Adiong said.
Peace activists yesterday circulated text messages appealing for prayers for the safety of rescuers herding away from the frontlines villagers being used as human shields by terrorists and those trapped in recurring skirmishes.
"These rescuers and emergency responders need our prayers. We have to pray for them just as we pray for the safety of the thousands of Muslim and Christian evacuees from Marawi City," Goldin Institute Philippines' global associate Susana Anayatin said.
The institute is involved in various activities complementing the Southern Mindanao peace process.
"There would have been no successful rescue of thousands from barangays where terrorists displayed the flag of the Islamic State of Iraq and Syria if not for these brave rescuers," Anayatin said.
"I never heard the rescuers and relief workers from Marawi City, from Lanao del Sur and from other areas complain about anything while working under dire situations. These are real people with very kind hearts," Adiong said.